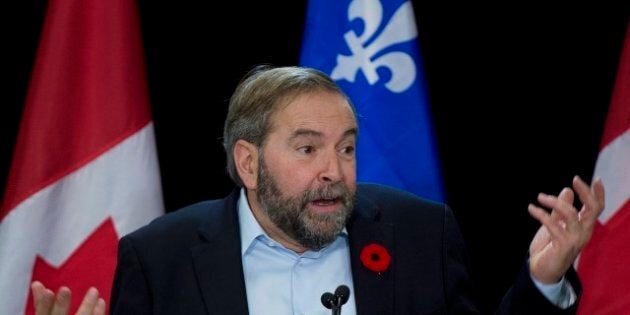 A minority government in Quebec has left federal New Democrats with little choice but to shelve plans for a provincial New Democratic party in la belle province, NDP Leader Tom Mulcair says.
In an interview that aired Sunday on Radio-Canada's Les Coulisses du Pouvoir, Mulcair told host Emmanuelle Latraverse while there's a lot of demand from the party's base for a provincial party, a minority government means another provincial election could be triggered at any time.
The NDP leader said the prospect of facing a provincial electorate while readying for a federal election in 2015 would "split the party's resources."
"We don't have the resources to do both at the same time," said Mulcair speaking from Montreal where the Quebec wing of the federal NDP gathered for their biennial convention this weekend.
While delegates debated the idea of forming a provincial party on Saturday, Mulcair made his position clear on Sunday.
"My first priority is to beat Stephen Harper and his Conservatives in 2015," Mulcair told Latraverse. "There's a lot of work cut out for us but we'll get there because the stakes are high."
Mulcair went on to lay out the differences as he sees them between his party's vision for Canada and that of the Conservative government.
For instance, Mulcair said, "it's a choice between a Canada where no one is left to fend for themselves, or Stephen Harper's Canada where seniors will be forced to work two more years before they can collect their pensions."
Wooing Quebecers
Mulcair's plans for a provincial party in Quebec came to light this summer while Quebecers were in the midst of a provincial election.
In the Aug. 18 episode of CBC Radio's The House, Mulcair said "on the horizon of a normal parliamentary cycle, looking at a horizon over the next four years — if that's the way it turns out to be — you can be sure that the NDP will be running in the next provincial election in Quebec."
Less than a month after Mulcair made those comments, Quebecers elected a minority government led by Parti Québécois Leader Pauline Marois.
In preparation for a provincial NDP, the French name "Nouveau Parti Démocratique du Québec" was reserved by the NDP's national president in June.
Mulcair did not give much fodder to recent opinion polls suggesting Justin Trudeau, who is running for the leadership of the federal Liberals, could be wooing Quebecers to the detriment of the NDP, saying only the NDP has deep roots across the country.
The NDP holds 58 of Quebec's 75 seats, the Liberals hold eight, the Conservatives five and the Bloc Québécois four.
CORRECTION: The Bloc Québécois holds four of Quebec's federal seats. A previous version of this story incorrectly indicated the PQ, which is a provincial party, holds four federal seats.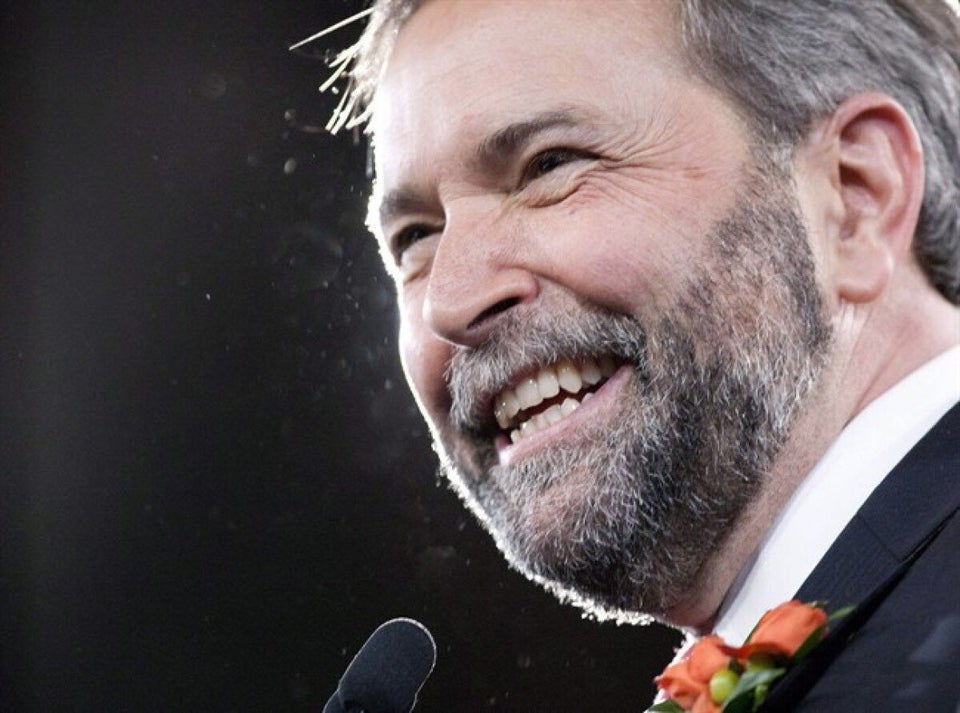 10 Little-Known Mulcair Facts