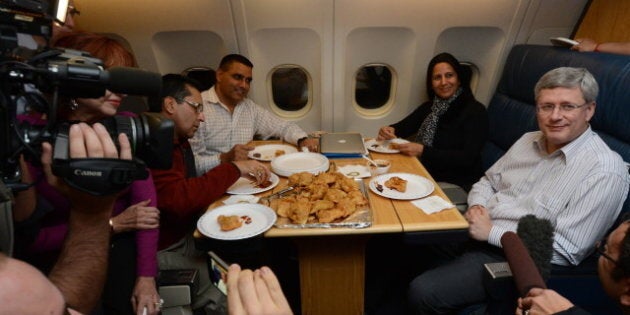 AGRA, India - Hours before Stephen Harper's plane set down in India, he was already signalling his embrace of one of the world's most formidable economies — with a bite of a samosa.
On the way to Agra, where he eventually arrived on Sunday evening, Harper tucked into a platter of the savoury Indian pastry with three of his Indo-Canadian MPs.
"I'm a spicy food eater," Harper conceded to reporters and photographers who had been invited to his private cabin on the government plane.
"I like everything, I love Indian food, I don't eat it that often, but I love Indian food."
Harper's unusually long six-day trip to India will be heavily focused on encouraging trade and investment, but will also touch on the personal ties between the two countries— namely, the one-million strong Indian diaspora in Canada.
Several reporters from Indo-Canadian media outlets have come along for Harper's trip. Harper is set to visit Chandigarh in the Punjab region, from which so many Canadians hail.
The first stop on Monday will be at one of India's most iconic locations — the Taj Majal.
The site is actually an elaborate marble tomb built by a 17th century emperor as a tribute to his beloved wife.
Later in the afternoon, Harper is scheduled to participate in a business forum in the Indian capital of New Delhi.
Trade between Canada and India sits at a modest $5.2 billion annually, but the two countries would like to see it rise to $15 billion by 2015.
"This is a great opportunity for the government to raise its profile in India," said Stewart Beck, Canada's high commissioner to India.
"I'd say our trading relationship and the economic relationship in general is really beginning to blossom...I just think our relevance to India is becoming more important, and that's basically what we've been trying to achieve as officials in this market — how do we raise Canada's importance to the Indians?"
But major agreements are not likely to be announced during Harper's trip. A foreign investment and a trade deal are both still in negotiations, and the two nations have yet to agree on the strings attached to Canada selling India uranium under a 2-year-old nuclear deal.
Part of the problem, Beck said, is that India is coping with its own internal issues. The country faces a controversy over how it has handled the taxation of British-owned Vodafone, and a scandal over the handing out of coal mining permits. The government of Manmohan Singh is also in a minority situation, and has not been able to move forward as quickly with economic reforms.
Canada has also had his share of controversy in the area of foreign investment, with its recent temporary blocking of Malaysian company Petronas' bid for gas producer Progress Energy Resources, and its drawn out review of Chinese company CNOOC's takeover of energy firm Nexen Inc.
Beck says regardless of those recent issues, Indian firms continue to look upon Canada favourably for investment in the energy sector.
"Indian companies are looking for opportunities in the oilsands, we know of Indian companies that are in Canada pursuing opportunities on the east coast as well, and looking at different types of proposals," said Beck. "Companies are there and active."
On the nuclear front, Canada has insisted on administrative conditions that would allow it to track exactly where the uranium sold to India ends up. India has balked at that.
"They've gone through long and difficult negotiations with the IAEA (International Atomic Energy Agency) to get where they are," said Beck. "You're in a negotiating situation, and again we want the best arrangement for us and the Indians want the best arrangement for them."
Harper will also visit the technology and services hub of Bangalore during his visit, a buzzing city that symbolizes the kind of growth and entrepreneurship that Canada would like to tap into.
Beck said there are four main areas for potential trade growth: food security, educational services, oil and gas, and infrastructure support.
India's economy is projected to grow by approximately 5.8 per cent in 2012-13, much lower than in previous years, but still healthy compared to that of some western nations.