 Mounties have identified Daniel Joseph Pard as just one of the motorists killed during a fatal weekend on Alberta highways.
Winter driving conditions and alcohol wreaked havoc on rural roads, killing at least three motorists over a span of 48 hours.
Pard, 48, was killed approximately one kilometre east of Fort Macleod while traveling along Hwy. 3. on Saturday. He was pronounced dead at the scene by emergency services.
"Upon arrival four occupants - two males and two females - were laying in the ditch near the overturned truck," said Mounties in a release.
"The other male and female passengers were transported to the Chinook Regional Hospital in Lethbridge with serious injuries." The male passenger was later transported to the Foothills hospital in Calgary for further treatment.
Police confirm alcohol was factor in the crash
The 26-year-old driver, Kristen Ashley Bastien of Lethbridge, has been charged with impaired driving causing death, two counts of impaired driving causing bodily harm, dangerous driving causing death, two counts of dangerous driving causing bodily harm and driving while disqualified.
She's been remanded into custody and is scheduled to appear in court at the Fort Macleod court house on Nov. 7.
Also on Saturday, a 19-year-old Crossfield woman was killed following a crash on Hwy. 42 approximately nine kilometres east of Hwy. 2
"Investigation revealed that a White Oldsmobile SUV, driven by a 19-year-old female from Crossfield, was passing in heavy fog when it struck an oncoming flatbed pickup truck," said Innisfail RCMP.
"The driver of the pickup truck was able to swerve out of the way to avoid a direct head on collision.
"The female driver of the SUV was trapped in the vehicle and had to be removed using the 'jaws of life'. She was transported to Foothills hospital in critical condition with life-threatening injuries."
The woman succumbed to her injuries and died Sunday evening, police said.
All three occupants of the pickup truck were released from the scene without injury and the crash is still being investigated, Mounties said.
A crash on Sunday morning on Hwy. 37 in Sturgeon County claimed the life of an Edmonton residents, Morinville RCMP said in release.
"Upon arrival it was determined that a westbound Ford Taurus had collided with an eastbound Nissan Frontier. As a result of the collision the driver, and lone occupant of the westbound vehicle ... was deceased at the scene," police said.
"The driver of the eastbound vehicle, an adult male, was transported to an Edmonton hospital via ground ambulance."
Icy road conditions and fog may have been a factor in this collision, investigators said.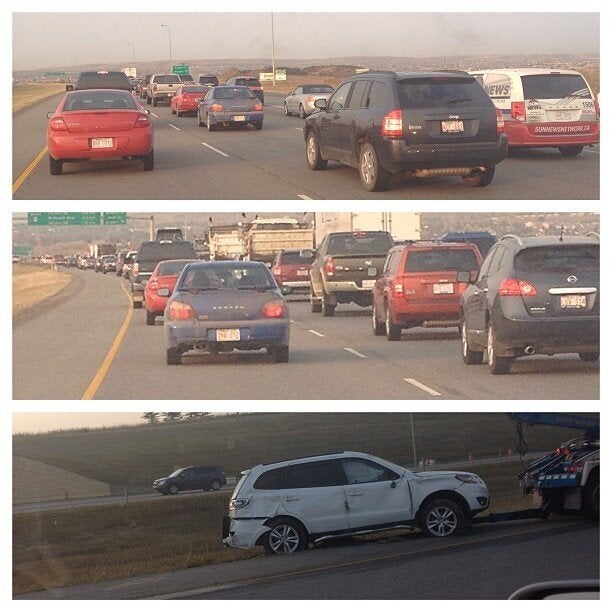 Alberta's Reckless Drivers Hangout Here