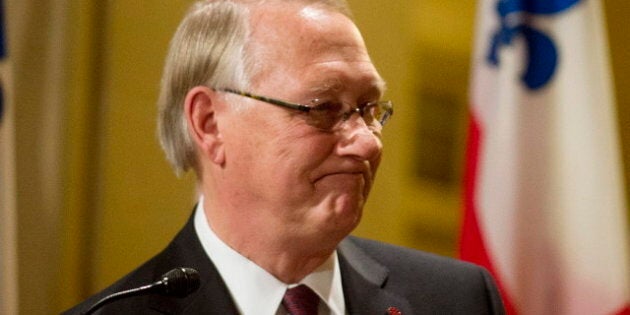 Montreal Mayor Gerald Tremblay has announced his resignation less than a week after he was personally implicated in testimony at Quebec's public inquiry into corruption in the province's construction industry.
Tremblay announced he was quitting as mayor of Montreal, Canada's second largest city, at a news conference Monday night, following last week's politically damaging testimony by Martin Dumont, a former organizer for Tremblay's party.
Dumont testified at the Charbonneau Commission that when the subject of illegal financing came up, Mayor Tremblay wanted no part of the conversation.
Story continues below slideshow
More from The Canadian Press

A defensive Gerald Tremblay said he had done nothing wrong but was stepping aside for the greater good of a city that has been politically paralyzed.

He made the announcement late Monday at a city hall where large construction contracts have been frozen; current municipal employees have been suspended; past employees face criminal charges; and an unpopular budget has had to be abandoned.

Now the mayor's gone.

"Under these circumstances, I cannot help any more,'' Tremblay said in a solemn speech. "The success of our city is much more important than my personal interest.''

The 70-year-old mayor held onto office just long enough to delay an election to replace him — which would have been triggered had he resigned only a few days earlier.

Tremblay had avoided the public eye last week, taking two days off work. Because he has quit after Nov. 3, less than a year until the next scheduled election, provincial law says he can now be replaced with an interim mayor chosen by the city council that his scandal-plagued party controls.

Tremblay insisted he was unaware of corruption in his administration and only learned about it after the fact, saying Monday that he felt betrayed by the people who had abused his trust.

Tremblay cast himself as a victim of wrongdoing.

"My father told me not to get into politics because it was dirty and would destroy me,'' Tremblay said, adding that his love of Quebec and Montreal drew him to provincial and municipal politics over a 25-year career.

"I dedicated myself to the success of Montreal, based on my Judeo-Christian values of helping one another, in solidarity, integrity, openness, respect for human dignity, social justice and peace.''

Monday's announcement came after years of scandal that, over time, inched uncomfortably close to the mayor. Tremblay's onetime closest associates have either been slapped with criminal charges or been accused of corruption at an ongoing inquiry.

The inquiry has heard that the same man who collected cash from the construction industry for the Italian Mafia also collected a three per cent kickback for the mayor's Union Montreal party from the value of public-works projects.

The latest, sharpest blow came last week: a witness at the inquiry said Tremblay was not only aware of illegal financing within his political party but was indifferent to it.

This was after the mayor had spent more than three years telling Montrealers that he'd been unaware of any corruption within his party or administration.

In making his resignation announcement, Tremblay denied that the 2004 meeting had ever happened. He said other recent allegations against him have been motivated by ``hidden agendas'' that would be exposed someday.

"That meeting never took place. Those allegations are false,'' Tremblay said of the testimony from former aide Martin Dumont, who said the mayor excused himself and left the room the instant illegal party financing came up at a 2004 meeting.

"I am going through a period of unbearable injustice... One day, justice will be done.''

He also dismissed the idea that he cared more about plausible deniability than rooting out corruption and that he did his best to remain in the dark: "Was I skeptical? Yes. Did I ask questions? Yes. Was I vigilant? Yes. But unfortunately, it was only after the facts that I was given documents, files and internal memos.''

True or not, the latest allegation from his former party worker, in testimony at the Charbonneau inquiry, was incendiary enough to torch his administration.

There had already been calls for his resignation. Suddenly, Tremblay was also struggling to pass an annual budget.

Within 48 hours last week, his administration was forced to back down from a budget that had included property-tax hikes.

The tax increase had caused enough of a backlash that even the provincial government weighed in on it. The PQ government echoed the sentiments of citizens who fumed at the idea of having to pay more to an administration whose legitimacy had been so tarnished.

If there was any consolation for Tremblay, it's that he wasn't mayor of the municipality next door. Unlike his neighbour to the immediate north, Tremblay has never been accused of personally pocketing illicit cash.

In Laval, Que., a statement from that municipality Monday said its own embattled mayor had not decided to resign — at least not yet.

"The mayor is continuing his period of rest and reflection,'' said the statement from the city's executive committee. "Once his decision is taken, it will be shared with you.''

Gilles Vaillancourt has been on leave for unspecified medical reasons. The statement was issued to rebut a news report that said Vaillancourt would resign on Tuesday or Wednesday.

A witness at the Charbonneau inquiry recently accused Vaillancourt of pocketing kickbacks from construction contracts. He has also been accused, over the years, of offering provincial politicians cash bribes. Vaillancourt has angrily denied those accusations.

Police, however, have recently raided the mayor's home and residences in Laval, a suburb that is Quebec's third-largest municipality.

In recent days, political death watches had sprouted in different pockets of the city.

While the Laval administration issued its statement Monday, television crews in downtown Montreal had gathered outside Tremblay's office to catch a glimpse of him as he returned from his long weekend.

Tremblay had skipped work for two days at the end of last week and cancelled a pair of public appearances. The timing of his no-show was politically significant.

If Tremblay had quit before Nov. 3, one year ahead of the 2013 municipal election, it would have triggered an early mayoral vote.

A lawyer by trade, Tremblay was called to the Quebec Bar in 1970. He also holds an MBA from Harvard Business School.

He was a Quebec provincial politician before his municipal career. Tremblay was elected to the provincial legislature as a Liberal in 1989 and he served as industry minister until 1994.

His entry into municipal politics was propelled a decade ago by the last Parti Quebecois government's plan to merge the island of Montreal into one megacity.

The plan was, ironically, led by his current adversary at city hall, Louise Harel, who was the provincial municipal-affairs minister at the time.

Tremblay harnessed the angst and anger over the plan, getting overwhelming support from suburban and anglophone voters and sweeping to power in 2001.

He was re-elected in 2005 and again in 2009 for his third term as mayor. Less than 40 per cent of Montrealers bothered to vote last time. Allegations had already begun surfacing about irregularities in the awarding of public contracts and illegal political financing.

Tremblay survived the vote — partly because the main opposition party led by Harel dealt with controversies of its own.

He defended his track record Monday. He said that the city was in better shape, financially and otherwise, than it was when he took office.

He said corruption would be rooted out and Montreal would be just fine.

"Once these bandits are gone,'' Tremblay said, "our city is built on solid foundations.''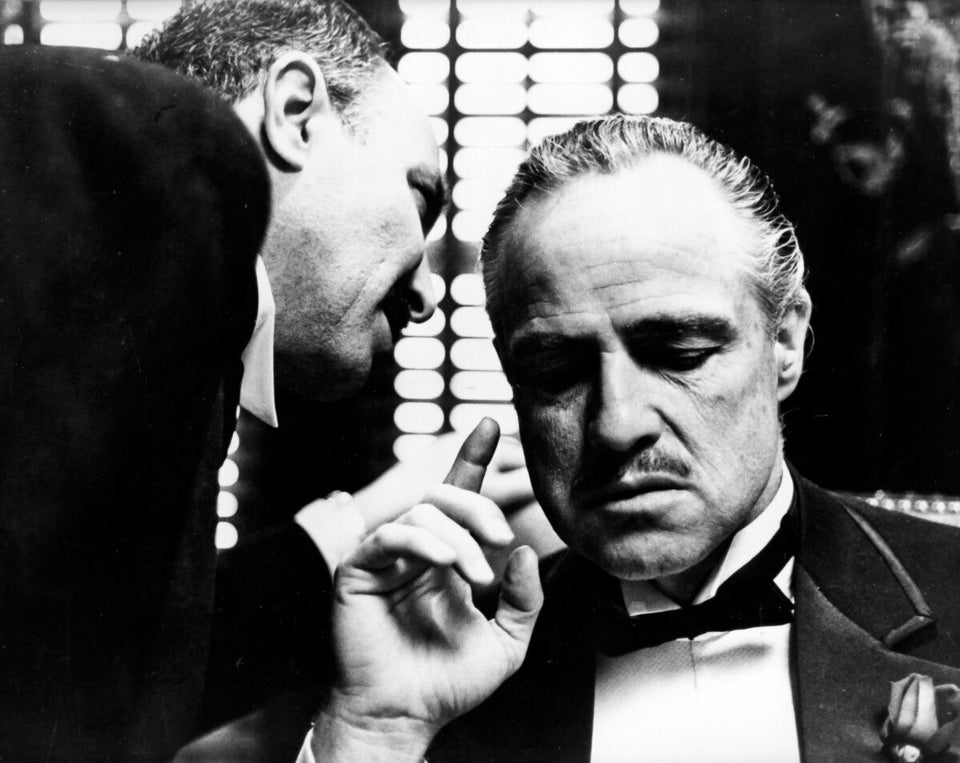 10 Commandments Of The Mafia