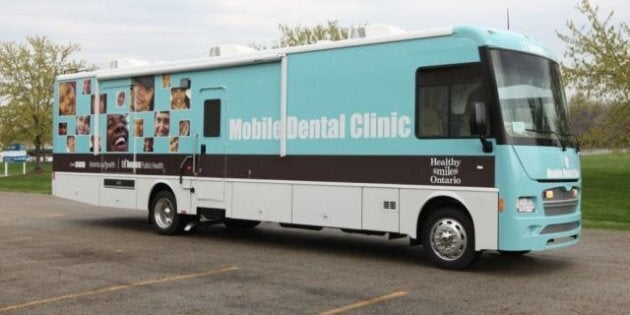 TORONTO - A dentist on wheels cruising down neighbourhood streets might not be quite as popular a sight with kids as the ice cream truck, but officials in Toronto hope it will be far more beneficial.
This week marks the launch of Toronto Public Health's mobile dental clinic, a 12-metre-long customized coach bus that will provide the under 18 set with free dental care in some of the city's most vulnerable communities.
"We have such a great need for this in Toronto," said Melvin Hsu, the city's manager of dental and oral health services, who helped design and launch the program.
"Before the launch, we were already inundated with community partners asking the bus to come into high-needs areas."
The community partners, which are mostly youth and family shelters or community centres, will help clients book appointments for the day the mobile clinic is scheduled to visit their area.
The bus can serve up to 20 clients daily, and will visit each of its different locations — including sites in the Scarborough, Jane-Finch and St. James Town neighbourhoods — once or twice a month, Hsu said.
The mobile clinic's services are especially aimed at newcomers, he said, adding that dental health isn't always stressed in other countries.
"A lot of the families that we see, this is the first time they've seen a dentist in their lifetime," Hsu said.
The mobile clinic, which is staffed with a dentist, an assistant and a hygienist, features two dental stations and is funded entirely by the province as part of the Healthy Smiles Ontario program.
Toronto is one of five health units across the province that received funding for a mobile clinic as part of the program, a two-year-old initiative that offers free check-ups, X-rays and other dental practices to children in low-income families.