The Canadian military has launched a formal investigation after a racially charged video was leaked to CBC News.
The video features an unidentified member of Canadian Forces Base Greenwood in Nova Scotia. The man is in brown makeup and wearing a turban, pretending to be Osama bin Laden's brother.
The video was produced for a formal dinner on the base in January 2010, a time when Afghanistan was still a combat mission for Canada and there were about 2,800 Canadian military personnel serving there.
In a four-minute excerpt, the bin Laden character jokingly boasts of working directly for his brother.
Speaking with a thick accent, he refuses to reveal where bin Laden is hiding.
"It seems you silly infidels will never find him. I do not want to be talking about him. It is always about him. I get the guns, I steal the bullets, I make the bombs, I do everything. All he ever does is take credit for my shit."
A second character in the video, a woman playing the role of a news anchor, asks the bin Laden character what he's doing now that he is living in Vancouver.
"What do you think I'm doing out here, you silly infidel? I am driving one very nice taxi."
He then moves off camera and yells, "Hey kid, get away from that car bomb — I mean taxi. It is very dangerous. Don't be giving me your dirty finger. I am telling you, I will come to your home and I'll hump your goat."
During the skit, the soldier portraying the bin Laden character names an officer working at the military base as the reason he is granting the interview. CBC News has decided not to name the officer.
The officer has confirmed to CBC that she became aware of the video after it was viewed at the mess dinner. She said she questioned her superiors about it and received apologies from everyone involved in the production.
'They are not infallible'
All copies of the video were ordered destroyed at the time, but a copy was obtained by CBC News a few weeks ago.
CBC contacted the Canadian military for an explanation about the video and on Wednesday, the head of the Royal Canadian Air Force, Lt.-Gen. Yvan Blondin, said that last week he requested an investigation into the circumstances surrounding the video.
"There are serious allegations that its content was inappropriate and culturally insensitive," Blondin said in a statement. "Although I have not seen the video, the information I received so far warranted my concern and immediate action."
He said the Canadian Forces National Investigation Service is investigating the incident.
"Although I can't comment on the details of this incident while the CFNIS is conducting its independent investigation, I can reassure all members of the RCAF, members of the Canadian Forces and Canadians as well that we have zero tolerance for acts that do not reflect our Canadian values, especially the respect we owe to other cultures and religions," the statement read.
"I express my apologies to those who may feel offended, and reaffirm my commitment to take any possible administrative, disciplinary or corrective actions that may be warranted."
Defence Minister Peter MacKay said he was awaiting the results of the investigation.
"Religious and cultural tolerance are important and necessary components of any national and professional institution, including the Canadian Forces," he said in a statement.
"I know the contents of this video do not represent the wider military community and its leadership."
MacKay said the Canadian Forces had been sent to countries such as Afghanistan, Libya and Haiti to "fight for freedom, democracy, human rights and the rule of law."
"These operations have proven Canadian Forces members are Canadian heroes. And, like all of us, they are not infallible," he wrote.
Public reaction to story
The video and CBC's online story have prompted hundreds of responses.
In the website's comments section, many people say they don't find the video offensive, and say it's similar to what they would see on a satirical television show, such as CBC's This Hour Has 22 Minutes starring Shaun Majumder.
Majumder told CBC News that, as a comedian, he doesn't find the video offensive, but he questions the judgment of the people who made it.
- Watch raw video of Shaun Majumder's reaction here
"When you are in the workplace — and especially if it is the military — it's like you've got to have some kind of sensitivity to the current world that we live in," said Majumder. "It's kind of funny, they had every opportunity all the way down the line to be like, 'Yeah you know what you guys, maybe we shouldn't go black face.'"
Majumder said the military context makes the video totally different from a skit produced for TV comedy. He said this type of performance would be severely reprimanded in most Canadian workplaces, and thinks the military should uphold the same standard.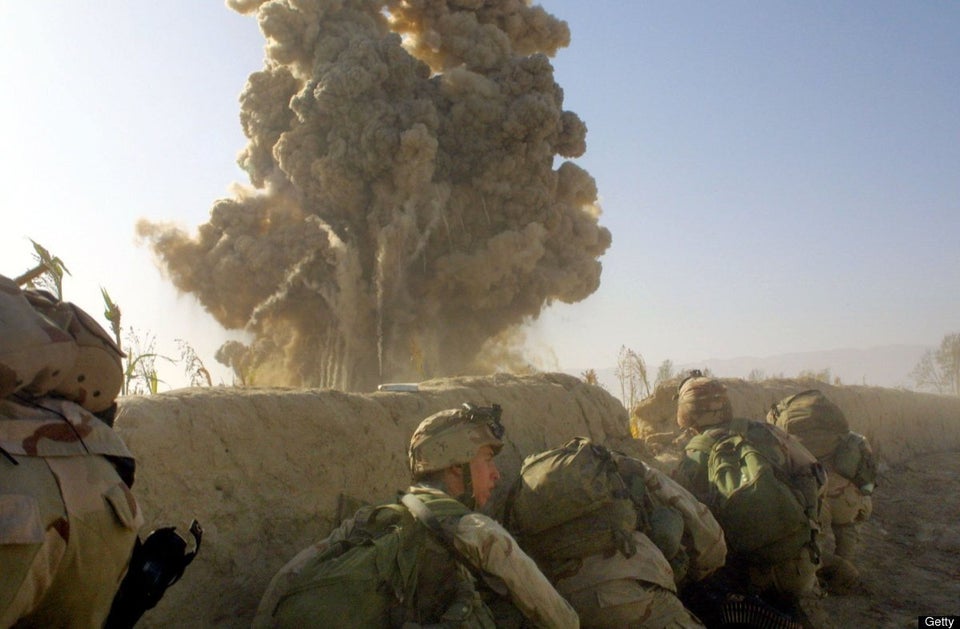 Afghanistan War, By The Numbers