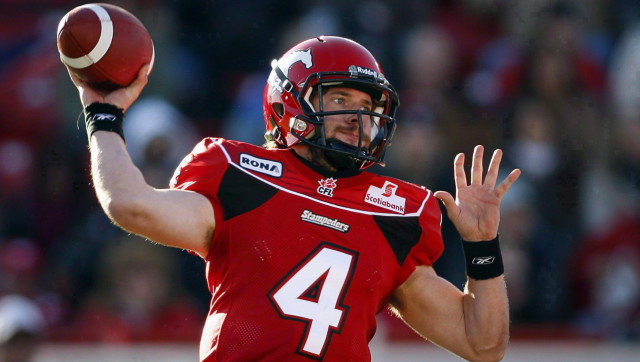 CP
The Calgary Stampeders said on Monday that Drew Tate has passed two concussion tests since taking a big hit in Sunday's CFL West semifinal win over Saskatchewan, but the quarterback felt it necessary to also release a statement regarding some concerning comments he made at halftime.
During a halftime interview on Sunday, Tate told a TSN interviewer that he didn't remember the helmet-to-helmet hit he took in the first half, courtesy of Tearrius George of the Roughriders.
He told TSN at the half "I got hit in the head. I don't remember the first half" and repeated to reporters after the game: "I got my bell rung. I don't remember the first half."
But Tate also stated during his post-game comments that he wasn't concussed, sparking confusion over whether the quarterback had sustained a serious head injury or not.
Tate's statement Monday read as follows:
"I got dinged in the second quarter and there was some fuzziness on that drive, but I obviously knew what I was doing and had no problems. By the time I got to the sideline and talked to everyone, I felt fine.
"The reason I said I didn't remember anything from the first half was because we didn't play great and I just wanted to move on. Looking back, I answered that question way too casually but it was because I just wanted to go start warming up for the second half. For me, I meant it like forgetting about a play and moving on to the next play during a game.
"After the game, I told media guys that I was having a hard time concentrating when they were asking questions. There was just so much adrenaline from winning the game, from everything that happened during the week with my family, with being named the starter. Again, I answered questions about the hit too casually because it wasn't a big deal to me. I just said whatever because the moment was very overwhelming.
"As far as talk about a concussion, I didn't get what the fuss was because I felt fine and just wanted to play. I told the doctors that when they were testing me on the sideline and in the locker-room at halftime. They said they were being precautionary and that was good, but I knew I was fine and just wanted to go."
Tate and the Stampeders are set to begin practising for the CFL West final against the B.C. Lions on Wednesday.