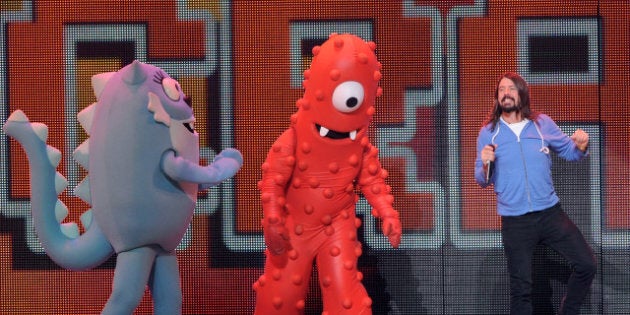 Unless you've been living under a rock, you know that Nickelodeon's wonderfully weird Yo Gabba Gabba!is kind of a thing -- and not just among the pre-school set, either. Thanks to its finger-on-the-pulse musical programming, the frenetic, 23-minute kids favourite has also become a cult hit among cool parents, music fans and musicians alike. (Yes, that is indeed head Foo Fighter and onetime Nirvana drummer Dave Grohl rocking out with YGG monsters Muno and Toodee).
Everyone from The Flaming Lips and Band Of Horses to Metric and Jack Black have appeared as guests -- sorry, "Super Music Friends" -- to perform songs about such important concepts as the importance of sharing, caring for the environment and trying again. (Life lessons, I'm sure we can all agree, that are applicable regardless of your actual age.)
Not only have Yo Gabba Gabba's live shows attracted such special guests as Lauryn Hill and Perry Farell, but they've also popped up at such hipster music festivals as Coachella and SXSW. That's because whether you're five or 35, these songs are really, really good.