Facebook
VANCOUVER - British Columbia's premier wants to change the way teachers, students and the public think about bullying.
Bullies are perpetrators, Premier Christy Clark told an anti-bullying conference in Vancouver on Tuesday. Their targets are victims. And bullying can no longer be dismissed as simply part of growing up.
"Bullying is not a rite of passage; bullying does not build character for children," Clark told an audience in downtown Vancouver at an event organized by the provincial government.
"It's not a kind of conflict where you put two people together and say, 'Tell each other you're sorry, explain what happened and move on.' Bullying has a perpetrator and a victim, and we need to deal with it that way."
The anti-bullying conference, which brought together educators, students, teachers and experts, was organized as part of the province's Erase Bullying strategy, announced this past June. It came a little more than a month after the suicide of 15-year-old Amanda Todd, who died after she was sexually exploited online and then relentlessly bullied by her peers.
Clark and her education minister used the conference to unveil the latest prong in their strategy, and one that Clark said will make it easier to identify and punish the bullies: an online tool for students to report bullying.
The tool is part of a new Erase Bullying website and allows students in any one of the province's public schools to fill out a form and document cases of bullying, whether they were victims themselves or were a witness.
They can choose whether to submit the information anonymously or provide their name. Their report is then sent to a local safe schools co-ordinator, who decides whether to share the information with school administrators or, in more serious cases, the police. The information will also be used to identify trends and problem schools.
"We have to send the message that when people are bullies, they have to be dealt with appropriately and the victims of bullies have to know that reporting is safe," Clark, who has championed anti-bullying messages since her time as a radio host, told reporters during a break at the conference.
"And the victims of bullies have to know that reporting is safe. Part of knowing reporting is safe is knowing that the bully won't be around to continue the victimizing forever."
The province's Erase Bullying program includes the creation of safe school co-ordinators in every school district, stronger codes of conduct for schools and a new five-year training program.
That training program has already started and will eventually see 15,000 educators learn about creating inclusive schools and how to conduct thorough threat assessments in their buildings, said Theresa Campbell, one of the lead trainers for Erase Bullying.
Campbell said part of that training focuses on dispelling the myth that any abusive behaviour can be lumped together as bullying.
Slamming a student's head against the wall of the school? That's assault, said Campbell. Threatening text messages? There's a law against that, too. Relentless cyberbulling? Campbell called that "social assassination."
"There has been a blatant underreaction to behaviours in our schools because everything has been lumped into bullying," Campbell told the conference.
"We have to be more mindful and start calling these behaviours what they are."
Campbell said educators also need to create inclusive, "connected" schools, where students feel comfortable reaching out to adults if they are bullied.
Jay Luty, a recent high-school graduate who told the conference about the years he spent ostracized and bullied by his peers, called on teachers and parents to make sure children know they can come forward.
Luty said he spent much of his time in high school feeling alone and unable to connect with his peers. When he wasn't spending lunch hours hiding from other students in the library, he was forced to endure teasing, amplifying his own social anxieties.
He spiralled into suicidal thoughts, he recalled, which didn't abate until he finally worked up the courage to tell his parents what was happening.
"I told them I was having thoughts of suicide and I detailed everything that was bothering me, every insecurity that was eating me," he said.
"Once I stated all my problems out loud to someone who was hearing me out, I felt some of the stress become instantly alleviated. ... I realized I didn't have so much to be worried about."
Luty said adults need to encourage more students to take that step.
"Show empathy and extend your support to your students, children or friends in need, and encourage them to say what they feel," he said.
The issue of bullying has gained renewed prominence in B.C. and across the country in the month since Amanda Todd's suicide.
Several weeks before her death, the 15-year-old posted a video to YouTube in which she flipped through dozens of cards that told her story in short, black sentences.
She said she was in Grade 7 when she was lured by an unidentified male to expose her breasts on a webcam, and a year later someone on Facebook threatened to distribute a photo from the video chat. She said the police later told her someone did, indeed, distribute the photo.
The RCMP continue to investigating her death.
In addition to the debate the case has generated in B.C., justice and public safety ministers from across Canada agreed two weeks ago to create a national working group to discuss the issue of cyberbullying, suggesting the issue could even be addressed by changes to the Criminal Code.
___
On the web: www.erasebullying.ca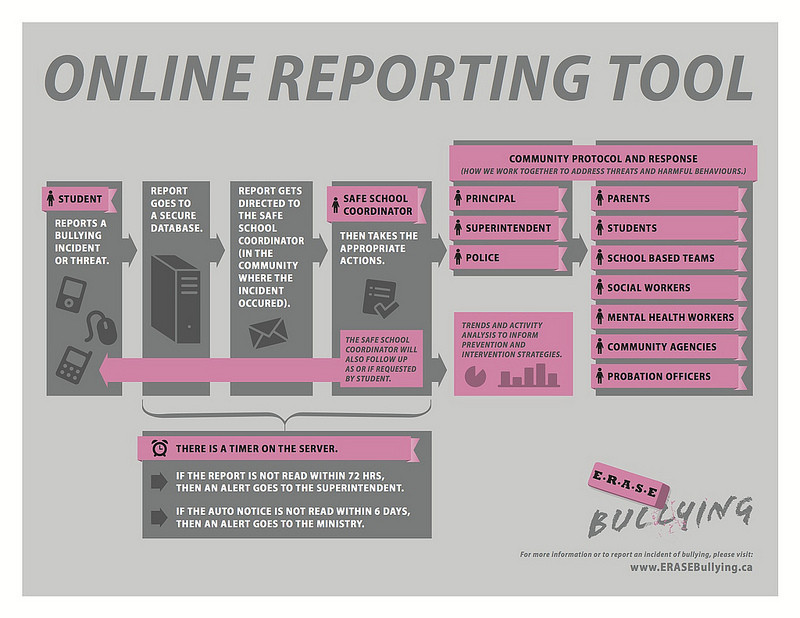 Also on HuffPost