People
Everyone, take a deep breath: As predicted last week, Channing Tatum has been named People Magazine's 2012 'Sexiest Man Alive.'
We're not saying we're upset with the decision -- Tatum is one fine looking dude (and we dug his abs in 'Magic Mike'). It's just, we were kind of hoping for a Ryan Gosling win -- he was robbed of the title last year (Bradley Cooper claimed the 2011 crown).
Alas, it wasn't to be. Instead, he's among 186 supporting sexy men who will be featured in the November 16 issue of People Magazine. Other divine-to-look-at-dudes who made the list include Denzel Washington, Paul Rudd, Ben Affleck and Damien Lewis.
But it's not just in the magazine where "hot men" are featured. There's a whack load of "sexiest men" content online, including a list of dudes who love their pets (Ryan Reynolds made that round-up) and chests to be thankful for (featuring Prince Harry). There's even a list of tips guys can use to up their "sexy" factor -- with examples from our two Ryans (Gosling and Reynolds).
Check out all of the 'Sexiest Man Alive' content at People.com.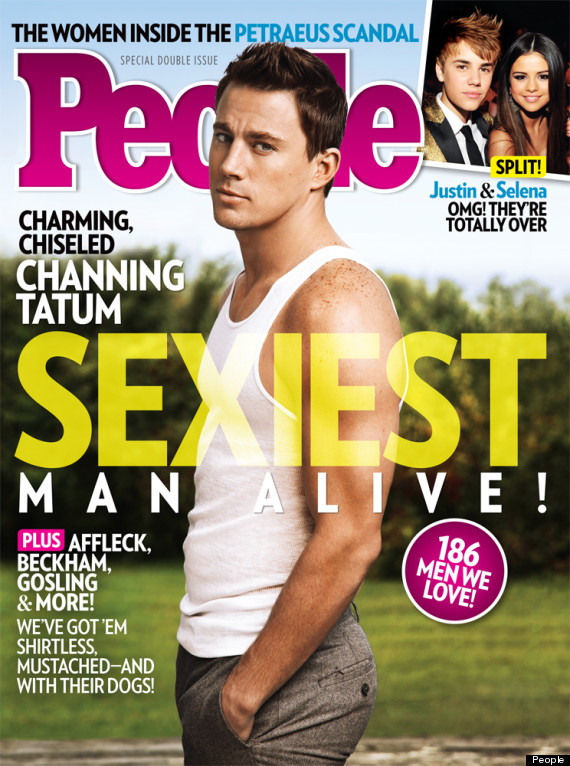 Check out our picks for "Sexiest Man Alive":
Who Should Be 2012's Sexiest Man Alive?