CP
Home sales in Canada saw continued weakness in October, with volume coming in 0.8 per cent lower than the same month a year earlier, and posting a 0.1 per cent decline from September, the Canadian Real Estate Association reports.
The national average home price remained flat year-over-year, CREA said, rising a miniscule 0.02 per cent.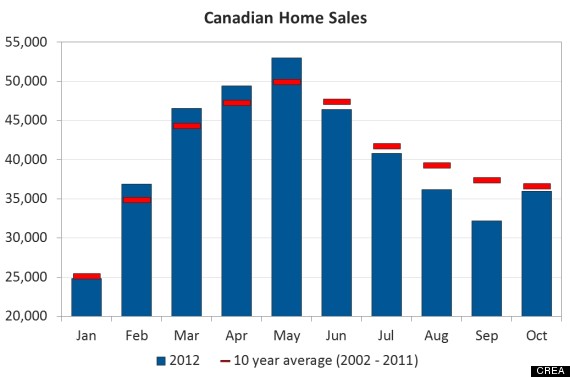 However the report had some good news for Toronto and Vancouver, whose housing market have been under downward pressure. CREA says sales there improved from September. But sales in those cities, along with Montreal, were still lower than a year ago.
"These results suggest that the Canadian housing market overall has returned to a more sustainable pace," said CREA economist Gregory Klump.
The Canadian Press reports:
OTTAWA - The Canadian Real Estate Association says the number of homes sold by its members last month was down slightly from September — continuing a trend begun in the summer when the latest mortgage reforms took effect.

CREA says 13,004 residential properties were sold in October through the industry-run MLS system, down about one-tenth of a percentage point from September on a seasonally adjusted basis.

The national average home price through MLS was also virtually unchanged from October last year at $361,516, an increase of just $80.

However, the number of new listings across Canada fell by 3.8 per cent in October from September, keeping the market balanced in terms of supply and demand.

There were 71,757 new listings in October, down from 74,618 in September.

A housing price index compiled by the association showed its smallest year-to-year gain since May 2011, rising 3.6 per cent from a year earlier to 156.4 in October.

The HPI is a benchmark that measures fluctuations over time, with January 2005 equal to 100.

CREA noted that the national statistics don't tell the whole story because of the localized nature of the real estate industry and the distorting impact of the large markets in Vancouver and Toronto.

Sales transactions were up compared with levels one year ago in almost two-thirds of all local markets, with Calgary leading the advances. Sales were below October 2011 levels in Toronto, Vancouver and Montreal.

Regina had the biggest year-to-year gain in HPI, with Calgary, Toronto, Montreal and the Fraser Valley region of the British Columbia also showing increases. Vancouver's HPI eased by 0.8 per cent to 158.3.

The national index was down 0.13 percentage point in October compared with September. Six of the seven localized indexes compiled by CREA were also down from September while Calgary was unchanged.

CREA says there are signs of diverging trends among local housing markets, with Alberta and Saskatchewan gaining strength and other traditionally hot areas cooling.

"Little has changed since national activity geared down in the wake of mortgage rules that came into force in July," said Gregory Klump, CREA's chief economist.

"Opinions differ about how sharply sales have slowed depending on the local housing market."
Also on HuffPost
What $1 Million Will Buy You Across Canada
Cities With The Most High-Rises Under Construction