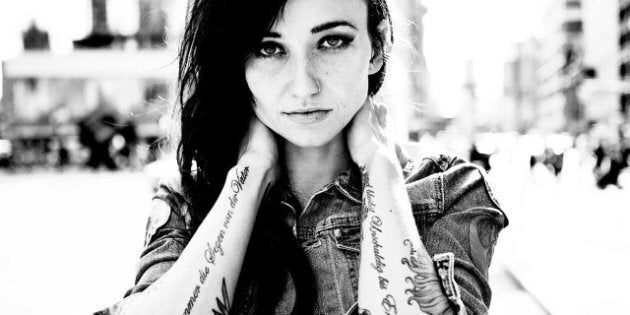 Lights is a pretty and successful pop star. But that's now. Back when she was known as Valerie Poxleitner, she was just another teenage girl whose own light was dimmed by bullies for the crime of being different.
"In high school I not only didn't have a whole lot of friends, I went to a lot of different schools because we moved a lot. I ended up just keeping to myself and trying to get my work done and do my thing. I wasn't particularly stylish. I was kind of lanky. I didn't grow into my body yet," Lights tells Huffington Post backstage at Free the Children's We Day youth rally in Calgary, where bullying has become a topic in the wake of Amanda Todd's suicide.
"There'd be groups of girls that didn't like me, they didn't like that I smiled, that I was happy, that I worked hard and tried to get out of high school with good marks. I would get pushed into lockers and called names and teased and people would try and start fights with me. Someone keyed my car. And it's not that I had a lot of enemies, it happens to everyone -- even the most popular people in school have problems."
It's important for young people currently being bullied to know that, and that people they look up to now may have also been bullied back then. That being bullied is a temporary state and that, to paraphrase the anti-homophobia campaign, it does get better.
"I always say that it's going to be fine once you get out of high school," Lights says, but in the meantime, "being open about these things and getting it off your chest and talking to someone like your family about it makes a huge difference. And that's what I did. I'd go home and tell my family all about it and I had that foundation there. And they'd go, 'Y'know what, you're better than that.'"
Lights, who just participated in an anti-bullying cover of Cyndi Lauper's "True Colors" alongside Hedley's Jacob Hoggard, Simple Plan's Pierre Bouvier, Fefe Dobson, Alyssa Reid and Walk Off the Earth to raise money for Kids Help Phone, says that it's even tougher for kids today because of the advent of cyberbullying.
Watch the 'True Colors' Music Video Inspired By Amanda Todd's Youtube Video
"Social media, as much as it has benefits, it makes it worse sometimes, because if something gets around it stays around, as we saw with the Amanda Todd thing," says Lights.
The other aspect of what happened to Amanda, of course, is how bullying specifically affects girls. It was the circulation of naked photos taken when she was only 13 that were at the root of her bullying.
"I get a good number of letters from girls I meet at the shows or fans that send me things that are sometimes really heavy and discussing what they're going through and the biggest problem in it is that people don't take it seriously enough. Maybe their family or friends don't understand the weight of the scenario and so they're telling someone like me who they don't even know and that's heartbreaking to me because there's not really much I can do about it except for trying to encourage people to be confident and not be ashamed of anything," she says.
"It's hard to be a girl. Your life doesn't have to be bad to have a hard time. You don't have to be impoverished or underprivileged to be completely emotionally hurt. And I try to express this to girls, and guys too, the teens are such a hard time in your life and you really have to have that confidence that you're going to be OK standing out a little bit or not fitting in. It's OK."
Download True Colors Songs