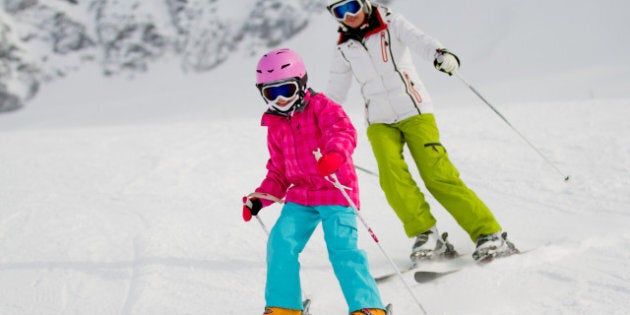 Skiers and snowboarders in Canada are increasingly turning to helmets for protection as they hit the slopes. But the helmets they buy aren't governed by any mandatory Canadian safety standards, which concerns at least one safety advocate.
According to the Canadian Ski Council, the number of skiers and snowboarders regularly wearing helmets when they head to the hill is on the rise. A February 2012 online survey conducted for the organization suggested that more than 80 per cent of skiers and snowboarders regularly wore helmets.
At Snow Valley in Edmonton, Rhonda Ross's two young daughters are sporting brightly coloured helmets. Ross says she bought the helmets just days ago, but didn't check to see if they met a safety standard.
"We don't really know what the standards are, but we know that it's brand new," she says.
Cathy Gladwin of the Alberta Centre for Injury Control and Research said many consumers are confused about safety standards when shopping for ski or snowboard helmets, because they assume the helmets meet the same CSA standards as hockey helmets. Some then purchase helmets that may be "more or less a fashion accessory," she said.
Ross's helmet, like many others sold on Canadian shelves, meets standards set by the American Society for Testing and Materials, which describes itself as a leader in the "development and delivery of international voluntary consensus standards."
In 2008, the non-profit Canadian Standards Association came out with a blueprint for what's believed to be an even safer helmet — one that can withstand multiple impacts. The standard specified areas of the head protected from impact. They also set stability, shock absorption and labelling requirements, among others.
The Canadian standard, which was developed by a technical committee consisting of safety experts and advocates, engineers and others, was not made mandatory for manufacturers. That standard is now under review.
Documents obtained from Health Canada through access to information show that since the 2008 standards were unveiled, no companies have come to the CSA applying to have their product certified.
"The standard is voluntary," Gladwin said. "So it is a business discussion for the manufacturers to want to comply"
An email from Health Canada senior engineer Denis Roy to Patricia Pelletier, manager of the risk assessment division of the consumer product safety directorate at Health Canada, cites two reasons for the lack of applicants.
According to Roy's email, the first reason is that meeting the "standard as currently written is difficult."
The second reason, Roy says, is that companies "appear unwilling to invest in the development of helmets that would meet a 'made for Canada' standard unless they are required by law."
U.S. norm good enough, companies say
CBC contacted eight of the top helmet manufacturers, including Canadian firm Louis Garneau. Garneau and the Canadian distributor for Bolle helmets declined interview requests. Some did not reply to the request.
Some manufacturers who did reply said that U.S. and European standards are good enough, and that to apply the Canadian standard would make helmets too big, heavy and unattractive.
"It may provide a better level of safety that exceeds what's out there right now, but at the same time I think you're going to push consumers away from going out there and purchasing those helmets, just from a cost factor, a weight factor," said Scott Lumsden of Salomon Canada.
Richard Kinar, a spokesman for the Brain Injury Association of Canada, was part of the committee that came up with the CSA standard that is now under review. He said the fear is that the standard is being watered down.
"The government is letting our children down, and parents that are wanting to help protect their kids' health."
The federal government is participating in reviewing the standard and results are expected to be made public later next year.
In the meantime, Health Canada says it encourages all skiers and boarders to wear a helmet.