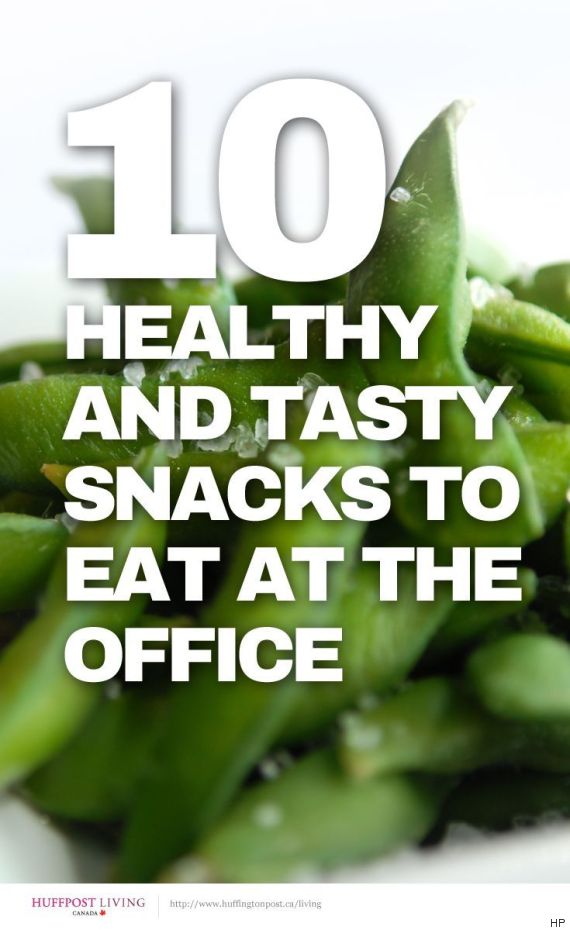 Most of us love the occasional snack, but when you're sitting at your desk all day and your job involves little movement, sugary or salty foods always feel like the best source of energy.
Healthy and nutritional foods not only add that needed energy boost for the day, they're also delicious, says registered dietician Diana Steele of Eating For Energy in Vancouver.
"You should snack to fill in the gap of nutrition you're not getting in the day. If you're not getting calcium, have yogurt, and if you're not having enough protein, try edamame," she tells The Huffington Post Canada.
It sounds counterintuitive, but studies have shown that if you tend to live a healthy lifestyle by eating a good breakfast, lunch and dinner, you're twice as likely to eat snacks in general, according to the NPD Group. The study found that people with the healthiest diets consumed 36 per cent more snacks per year compared to an average consumer.
But let's face it, when you're at your office meeting, a plate of deliciously coloured doughnut are probably staring right at you, and they're hard to resist. Steele says when it comes to office treats, see if you can ask your manager to cater a variety for people who want to choose healthier foods. "In general, most people in offices would say they don't want to be exposed to high fat foods all the time," she says.
And if you're the type of person who goes shopping for healthier snacks but never ends up eating them, keep them visible at your desk, send yourself an email reminder to eat your snacks and plan ahead — if you want to eat pineapple, chop it up at home the night before, Steele says.
LOOK: 10 of the healthiest (and tastiest) snacks to munch on in between meals
Edamame:
THE GOOD NEWS: Edamame is full of protein and fibre.
SNACK TIP: Buy frozen edamame beans and keep them in your office freezer, says registered dietician Diana Steele of Eating For Energy in Vancouver, B.C. Pop them in the microwave and add cherry tomatoes for a quick and wholesome snack.
Cucumbers And Low-Fat Cheese:
THE GOOD NEWS: Cucumber is packed with vitamin K (needed for strong bones) and low-fat cheese is full of calcium.
SNACK TIP: Steele recommends making mini cucumber sandwiches by taking low-fat cheese and turkey and wedging them in between two slices of cucumbers — the kids will also love this one.
Fruit Smoothies:
THE GOOD NEWS: Low calories and tons of fresh fruit.
SNACK TIP: Start a smoothie club at work. Steele recommends having one person make smoothies at the office for everyone in the club once a week. Keep this role rotating and try flavours like mixed berries and tropical fruit.
Apple And Peanut Butter:
THE GOOD NEWS: Apples can boost your immune system and natural peanut butter is full of protein.
SNACK TIP: Dip sliced apple pieces in plain Cheerios for a crunchy snack.
Trail Mix:
THE GOOD NEWS: Eaten in portions, homemade trail mix can be packed with fibre, according to MyFitnessTrainer.com.
SNACK TIP: For kids, Steele recommends making a homemade trail mix with seeds and dried fruits (avoid nuts because of allergies) and for yourself, add in popcorn or even whole wheat pretzels.
Muffins:
THE GOOD NEWS: When made at home, muffins are low in fat and packed with healthy oats and dried fruits or vegetables.
SNACK TIP: No, we're not talking about the store-bought kind or the sugary ones you pick up from a bakery. If you still want to snack on muffins, Steele suggests making a batch of zucchini pumpkin muffins. Check out a recipe here.
Tortilla:
THE GOOD NEWS: If you are buying tortillas from the store, avoid ones with excessive salt, sugar and corn, according LiveStrong.com. For the most part, homemade tortillas are not as bad as the store-bought kind.
SNACK TIP: Take a whole wheat tortilla and spread almond butter on top. For an extra nutritional boost, wrap it around an banana. This is the perfect afternoon snack, Steele says.
Greek Yogurt:
THE GOOD NEWS: Greek yogurt is a great source of calcium, protein and probiotics (which is good for your digestive system), according to SheKnows.com.
SNACK TIP: Mix berries or granola with a cup of sugar-free Greek yogurt, Steele says.
Apple Sauce:
THE GOOD NEWS: Apples in general have been known to prevent types of cancer and sugar-free apple sauce is a great fibre booster in the morning, according to FitDay.com.
SNACK TIP: Sprinkle crushed graham crackers over sugar-free apple sauce.
Popcorn:
THE GOOD NEWS: Forget butter and salt, making popcorn in an old-fashioned pot over the stove with seasoning and a touch of oil can actually be a healthy snack.
SNACK TIP: For a good evening snack, mix over-the-stove popcorn with flax seed oil and a bit of your favourite seasoning.