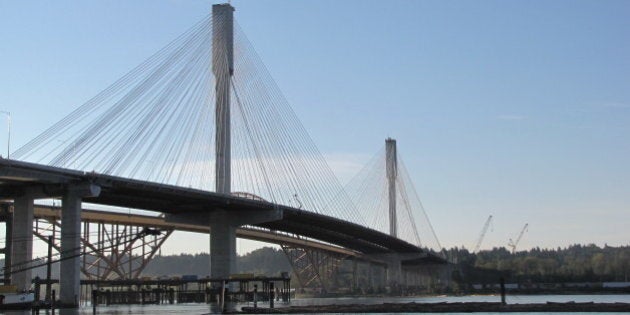 The new Port Mann Bridge was tested during its first rush hour this morning as drivers on both sides of the Fraser River crossed the newly-opened bridge on their way to work.
The trip appeared to be clear sailing for drivers on the Surrey side heading west toward Vancouver, ending the stop-and-go delays on the Trans-Canada Highway many drivers have faced for years.
But once that westbound traffic crossed the bridge and hit ongoing highway construction in Coquitlam and Burnaby, many drivers faced long delays once again.
Gordon Price of the City Program at Simon Fraser University says those delays are unlikely to disappear.
"As you generate more traffic, the traffic goes somewhere and that is where the impact will be felt," he said.
"The impact will be on the intersections of Surrey and Langley. When you get off 200th and you head down towards Willoughby, what is going to happen then as you generate more and more traffic, they will feel the congestion."
Price says offering alternate transit options is the only way to avoid congestion, saying additional bus services should have been built into the new Port Mann Bridge.
The province has promised the new bridge would reduce some drivers' commutes by up to one hour.
Eight lanes on the bridge were open for the first time on Saturday and the bridge is free until Dec. 8, when drivers will start paying a discounted toll of $1.50 for cars, small trucks and SUVs. Large trucks will pay $9 per crossing, but will get a half price discount after 9 p.m. and before 5 a.m. PT.
New express buses running
For the first time in decades, rapid transit buses are now crossing the Port Mann. Bus service on the old bridge was stopped many years ago because of the length of the delays. The new route is expected to carry 3,000 to 4,000 passengers per day.
The new #555 Port Mann Express began service on Dec 1, travelling over the new Port Mann Bridge between the Carvolth Transit Exchange and Park and Ride on 202nd Street in Langley and Braid SkyTrain Station in New Westminster.
TransLink says the #555 will operate seven days a week, with buses running every 10 minutes in each direction during peak periods — Monday through Friday from 5 a.m. PT to 9 a.m. and 3 p.m. to 7 p.m. — and every half hour the rest of the time, with the last bus leaving each terminus at 11 p.m.
The final two lanes of the bridge are slated to open in the spring, when the old Port Mann Bridge will be removed.
Ongoing Port Mann construction, completion dates