NOW/TIME
Toronto's NOW Magazine is under fire for a Rob Ford cover that many are comparing to a Time Magazine cover featuring Hitler.
NOW's latest issue features a picture of Toronto's mayor with a red X over his face, an image reminiscent of a series of TIME covers that started with the death of Hitler in May of 1945.
The Time series has also included red X covers for Saddam Hussein, Abu Mousab al-Zarqawi and Osama bin Laden.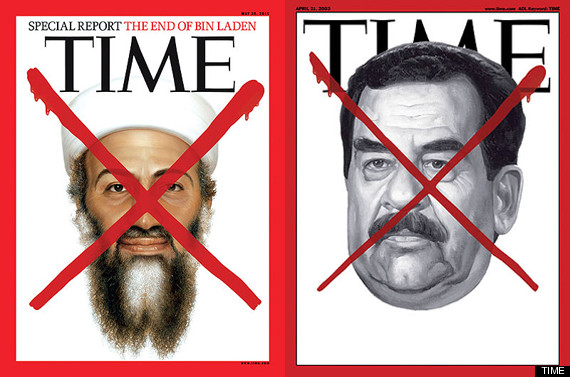 On Friday, NOW denied the cover is an intentional reference to Time's Hitler cover with a posting on Twitter. However, many online have suggested it's unlikely NOW's staff were unaware of the similarity, considering the more recent covers on bin Laden and Hussein.
See what users on Twitter are saying about the cover below.
STORY CONTINUES BELOW SLIDESHOW
Twitter On Rob Ford Cover
The similarity between the NOW and TIME covers went viral over the weekend after the Toronto Star published a story on the controversy.
Prominent author and academic Richard Florida subsequently sent several tweets criticizing NOW's work. Nick Kouvalis, Ford's former chief of staff, also got in on the action.
This isn't the first time NOW has faced criticism for its treatment of Ford. In 2011, the magazine published a photoshopped cover of the mayor wearing nothing but boxer shorts. The cover led Toronto officials to direct city buildings to remove copies of the magazine, a move which was later characterized by Ford's staff as a "misunderstanding," according to the Star.
NOW, which describes itself as "Toronto's alternative news and entertainment source," has been critical of Ford's behaviour throughout his tumultuous term in office.
Last week, Toronto's mayor made headlines around the world after a judge ordered his removal from office over a violation of the city's conflict of interest rules. Ford has appealed the ruling and will be eligible to run again if the appeal fails and council calls a byelection.
Also on HuffPost