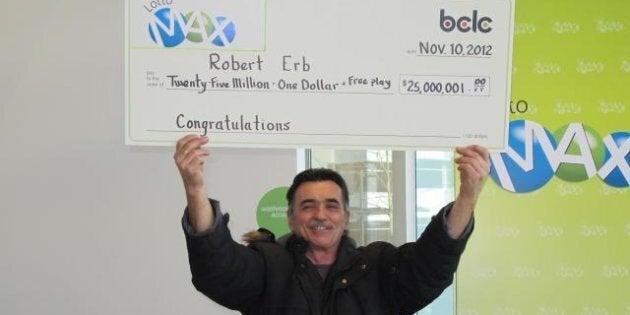 A B.C. man who won a $25-million Lotto Max jackpot is sharing his newfound wealth, showing up unannounced at local charities and businesses, and making sizeable donations.
Bob Erb, 60, bought the winning Nov. 2 lottery ticket at a Chevron gas station in New Hazelton, but manager Dean Paranich says it almost didn't happen.
"When he came in to get his ticket, I actually gave him something that he didn't want for the same draw. Instead of a ticket for two consecutive draws I gave him a ticket with two plays for only one draw and I was going to cancel the ticket," said Paranich.
"And he just said, 'Oh no, no I'll take that one. You never know,' he said, 'It could be the winner.' And I'll be dammed if it wasn't the winner!"
Erb has since shared some of his winnings with the gas station staff, giving them each $10,000 and $20,000 to Paranich for selling him the winning ticket.
"As cashiers that sell lottery tickets we always make jokes 'If you win big, don't forget about me!' But it's pretty much unheard of that the winners actually come back and give that much money to the place that they bought it," Paranich said.
Erb has also been surprising charities with large donations, including $20,000 to the Happy Gang Centre for Seniors in Terrace.
Kay Derksen was working there when Erb came in for lunch and sat down beside her.
"I heard him say, 'Twenty thousand ... what day is it today?' So he wrote the cheque out and I said, 'This is, this is really something!' I said, 'My!' I said 'Is that really what it is? Twenty thousand?'" recalls Derksen.
"Just a regular everyday guy, giving us this money because he won some. So he's definitely sharing with the community," she said.
Erb is a marijuana activist and seasonal construction worker. He has said he intends to continue working and will donate his wages to the food bank.