A monkey wearing a coat caused quite a stir when it got loose at a Toronto Ikea and was later captured on Sunday afternoon, the CBC reported.
Police say the 'smart monkey' escaped from a crate inside a car parked at the store, located around Leslie Street and Highway 401. It stepped out in some snappy attire, a winter coat that is reportedly its favourite.
UPDATE: Darwin the Ikea monkey has been relocated to the Story Book Farm Primate Sanctuary in Sunderland, Ont., according to CTV.
Story continues below photo...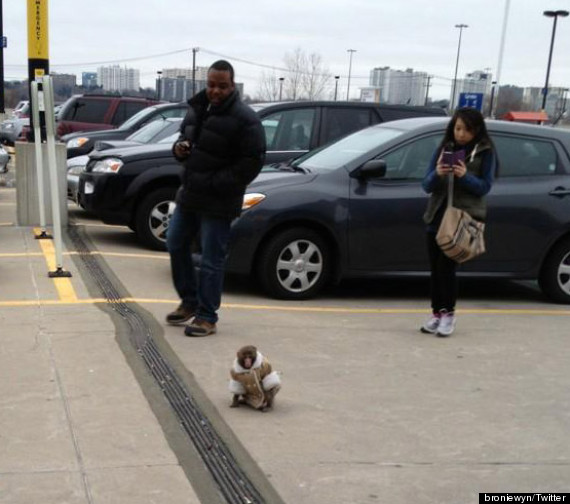 The stylish monkey takes a trip through the parking lot
The animal was spotted in the store's upper parking garage at about 2 p.m., the Toronto Star said. Security managed to corner the monkey, which shopper Bronwyn Page described as "agitated," and animal services collected the little guy.
The owner of the monkey, a five-month-old Rhesus Macaque, has come forward, and was fined $240 for having a prohibited animal, CP24 reported.
Also on HuffPost