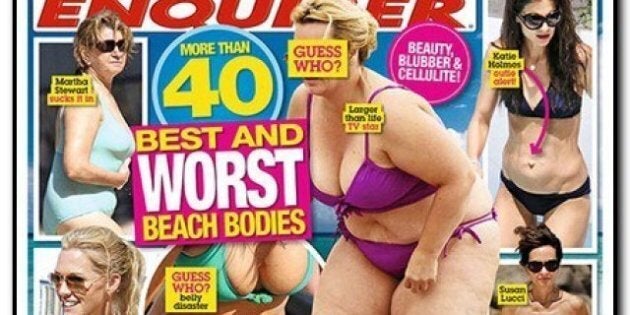 They're the images displayed in front of us at every supermarket checkout, but as we so often forget, they're also the images put in front of children standing in the same spot. The tabloid magazine covers that are a standard in the "grab bag" section display images that we wouldn't willingly want kids to see — and one teacher has had enough.
Brandon Field, a teacher based in eastern Newfoundland, took to Facebook yesterday with a request for the Loblaws-owned store near his house: Stop displaying these magazines where kids can see them.
More and more, we are seeing the detrimental effects of bullying in our school system. These magazines, which are displayed prominently at every checkout, are a very real form of bullying. What's more, they further perpetuate the idea that women should have flawless bodies, thereby exacerbating the problem of negative body image, particularly among female youths, but also among all sexes and age groups.

As a schoolteacher, how am I to demonstrate to my students the importance of treating others with respect when everywhere they look society is sending a message to the contrary?
Meanwhile, publications like Vogue and Seventeen have made pledges to showcase healthier depictions of women's bodies — but there are no such regulations against what's displayed at the checkout counter.
"We are mindful of the type and quality of magazines that appear on our racks, and we do take proactive measures. For example, we have advised certain publishers to bag their magazines to reduce the likelihood of potentially offensive material and we work [with] our wholesale distributor to provide an advanced warning whenever an authorized magazine is about to be released that is in controversial taste. We then review the cover and make an appropriate decision."
SEE: How people on social media reacted to the story. What do you think of these publications — should they be placed where children can see them?