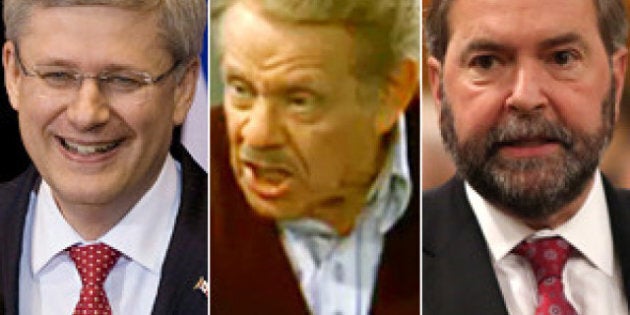 It seems Stephen Harper's Twitter account may finally be getting interesting.
Harper had obliquely referenced the episode, in which Frank misunderstands the message of a relaxation tape, during question period earlier in the day. Responding to a question from Mulcair, Harper said "At this time of merry Christmas, I wish serenity now to all members of the House."
Harper didn't stop with just one tweet.
While Mulcair has yet to respond, the parody account was quick to get in on the action, sending a retort linking to an animated clip from the popular wesbite JibJab showing Mulcair, dressed as an elf, dancing in the House of Commons. You can see all the tweets in the slideshow below.
STORY CONTINUES BELOW SLIDESHOW
The exchange plays on two recent trends: 1. Harper attempting to be more human on his Twitter account and 2. Increased attention for declining decorum in the House of Commons.
This is the second time in recent weeks Harper has cracked a joke on Twitter, a venue he usually reserves for posting press releases and photos of himself smiling with constituents.
That tweet went viral, receiving nearly 10,000 retweets.
The Seinfeld tweet hasn't been nearly as popular, but it had received a respectable 168 retweets at the time this story was posted.
Harper's tweet also touches on the recent bad behaviour of MPs.
Perhaps Harper's playful tweet is an attempt to use humour to do just that.