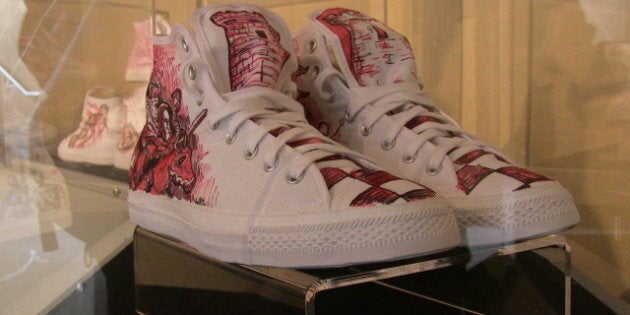 Travel isn't always about business or pleasure — sometimes, the art of visiting somewhere new involves learning something new. When it comes to Canadian museums, there's no shortage of knowledge tucked away behind those glass casings across the country. To showcase some of our country's collective wisdom, HuffPost Canada Travel will be a featuring Canadian museums each week, from the obscure to the originals. Call it a mini, virtual tour if you will, but we're calling it Exhibit Eh — and yes, photography is permitted.
Admission: For those with too many shoes and not enough space, take a page from Sonja Bata's book and open a museum. What started out as one immigrant's fascination with shoes and a lack of storage space later evolved into the Bata Shoe Museum, located in Toronto, Ontario. Built in 1995, the four-level building remains a monument to fashionable footwear along Bloor Street, one of the city's major arteries. It's a fitting location for a building that mixes education, history and fashion, given a location that's just steps away from the University of Toronto and blocks from high-end stores like Holt Renfrew.
What To Expect: Inside the concrete and glass structure lies what could pass as the love child of a shoe store and a museum that was raised by a movie theatre. Guests expecting anything less than the world's largest collection of shoes spread out over four different exhibits will not be disappointed. But it's not just shoe fanatics and fashionistas to whom the museum will appeal. Even those with little interest in Roger Vivier's contribution to shoes can still appreciate the historical, cultural and even technological aspects that curators weave into the exhibits. Bata may be North America's only museum dedicated solely to shoes, but staff say that shouldn't turn people away.
"People might suspect that [the museum] is quirky and only focused on one thing, but what I hope people understand when they come here is that really because shoes are worn around the world and worn throughout time, they're a really interesting way of understanding larger cultural issues," says Elizabeth Semmelhack, Bata's senior curator.
The Bata Shoe Museum. Story continues after the slideshow.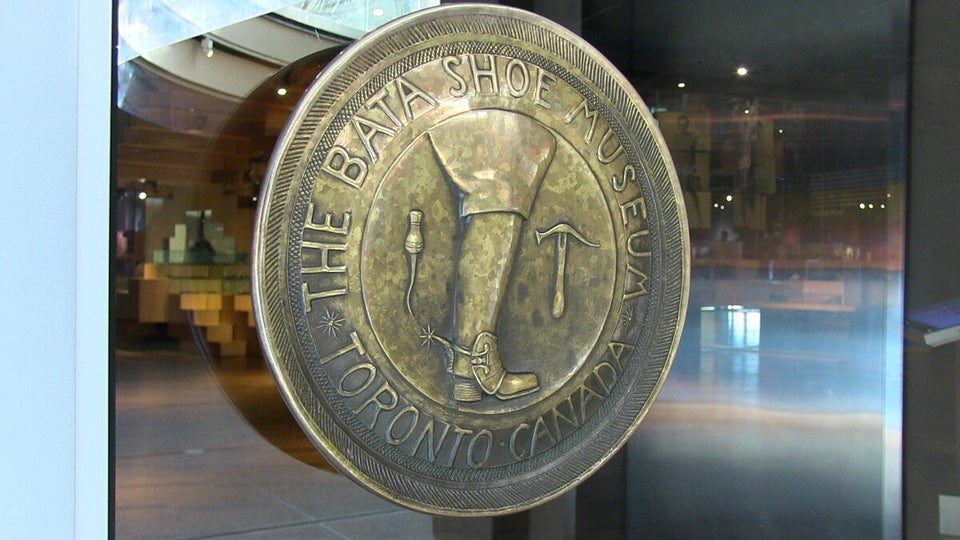 What You'll Find: Currently, the four exhibits are split between four floors. Standouts include the museum's permanent exhibit: "All About Shoes." It's structure doesn't change but features artifacts like tiny silk-embroidered slippers from China and the metal beak shoes of Gothic monarchy. For more modern tastes in footwear, there's a small collection on display, from renowned personalities like Piece Brosman's Oxfords during his stint as James Bond in "GoldenEye" to the worn-out AdIdas sneakers of Terry Fox. Guests who make their way to the second floor can also check out "Beauty, Identity, Pride," a collection of North American footwear with more moccasins than a SoftMocs could handle.
What's Next: Those looking to check out the museum in the new year may miss out on some of the current exhibits but can look forward a new collection on sneakers and the rise of sneaker culture in April. No word on whether the exhibit will feature the musical stylings of Nelly singing 'Air Force Ones' but Semmelhack says a new collection focused on the musuem's field research is coming soon. The new exhibit will focus on the shoe making skills and artifacts from remote circumpolar countries like Northern China, India, Mongolia and Tibet.