Michael Silva is a confident 24-year-old whose ambition led him to start BudgetParking Inc., a parking enforcement business that brings in more than $100,000 a year.
Most of his contemporaries have to struggle through a gruelling post-secondary education if they ever hope to do the same.
But the only diploma that Silva has was given to him when he graduated high school.
Growing up, children of the millennial generation were accustomed to hearing the same thing: Stay in school, become a doctor or a lawyer. At all costs, avoid a career involving hard labour and low salaries.
For the most part, they have heeded the warnings. Enrolment in Canadian universities continues to climb, rising as high as 8.2 per cent, which accounts for an addition of nearly 800,000 students, from 2008/09 to 2009/10.
Post-secondary education is seen as a necessity, no longer a privilege . As a result, those who choose not to pursue a degree are often looked down upon. But many in this generation may not realize that the lack of a university or college degree does not necessarily lead to a lack of job prospects.
Story continues below slideshow
9 Non Post-Secondary, High Paying Jobs
High school graduates can often find success in pursuing entrepreneurship or the trades, some of which require working through apprenticeships in unions. Although qualified workers are always in high demand, the jobs are often ignored by Canadians. To help allay the shortage of skilled workers, the government of Canada has gone as far as implementing a fast-track program to bring in more foreign tradespeople.
To start a business, entrepreneurs need an idea and money.
Either a trade or being an entrepreneur allows graduates to join the workforce immediately, forgoing two to four years of post-secondary education. This was crucial in Silva's decision.
"Time was important, it affected my decision," Silva said. "After I got my high school diploma, I wanted to pursue becoming a paralegal. It was something I was saving up to do, but I got sidetracked."
Silva's detour on his career path led him through jobs in programming, baking, and roofing until he settled down as a parking enforcement officer. That gave him a start toward achieving his other goal of becoming a police officer.
But in founding BudgetParking Inc., Silva said, he is incorporating elements of a career as a paralegal and those of a police officer into one.
"I brought both worlds into one," he said. "I'm a parking officer and deal with court issues and battles on a day-to-day basis. I've developed the same knowledge that the people who work in those jobs have, without school."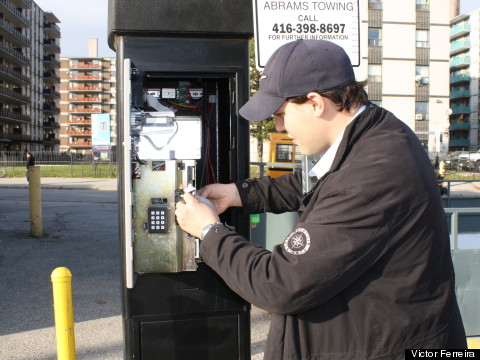 BudgetParking enforces parking rules around Toronto, mainly in residential areas, by setting up parking meters in private lots, collecting fees, and distributing tickets when necessary. As his business grows, Silva continues to spread parking enforcement throughout the city. Currently, BudgetParking has 10 meters, each of which costs a one-time investment of $11,000 to $14,000. There are other expenses, including signs and the rights to the lot.
The steep price does not concern Silva, who says that the machines pay for themselves and quickly give him the necessary profit to add to their numbers.
"I could someday be making $20,000 to $100,000 a month," said Silva, proud of his entrepreneurial prowess.
Looking for success as an entrepreneur can lead high school graduates to the same success that Silva is currently enjoying. Mark Franklin, president and practice leader of Career Cycles, says entrepreneurship is one of the fields that high school graduates must consider if they want to be successful.
"Young people are looking at the possibilities of starting their own business, and there are no limits," Franklin said.
As a practice leader at Career Cycles, a career management social enterprise, Franklin steers clients toward the career path that best suits their skills.
Often, he finds himself guiding struggling workers to starting their own business or to a career in a trade, something that he considers a hot commodity.
"These [trade] jobs aren't going anywhere, they're staying in Canada," Franklin said. "You can outsource marketing to India; what you can't outsource are trades. Right now it's a hotter job market."
Franklin says that it is common for tradespeople to make more income in their first five years on the job than a university graduate does. Add the average $27,000 of debt that students accumulate throughout university, and there are several reasons to consider working as a carpenter or an electrician.
However, the interest just isn't there.
In late October, British Columbia workers held a job fair to look for tradespeople to work in hundreds of unfilled jobs in the province. Currently, $80 billion is being spent on construction projects in British Columbia with an expected one million jobs to fill by 2020.
With youth unemployment rate fluttering about 15 per cent and a wealth of jobs available in the West, there must be a reason that trades such as carpentry, plumbing, pipe laying, and sheet metal work continue to be in demand but underemployed in British Columbia.
To Franklin, the answer is simple.
"We in Canada seem to have this perception that prestigious office jobs are what it's all about," he said. "Parents like to brag about kids completing degrees, but ultimately, if they're not finding work and are miserable, something needs to change."
Franklin points to the model used in Germany as an example of how things can change.
"In Germany, apprenticeships are prestigious," he said. "They integrate practical experience into post-secondary programs better than we have. It's looked upon favourably to be a tool maker or to be working in the automotive industry. We like the German output, we just don't have the means to achieve it."
But as long as obtaining a post-secondary education is considered the norm in society, Canadians will likely continue to look down upon careers in the trades.
Even Silva, who worked as a roofer before he created BudgetParking, holds a negative view on that line of work.
"You'd wake up every morning in asphalt and you'd think: Is this something you want to do for the rest of your life? It's not," he said.
Andre Lopes, 27, has been working as a finish carpenter since leaving high school, and he would disagree.
"I look forward to going to work," Lopes said. "I like the job I'm doing, and I wouldn't trade it for anything else."
Having completed an apprenticeship with the Carpenters' Local 27 training centre in Toronto through high school, Lopes immediately found work after graduation. Nine years later, he is proud of his decision.
"For some people, school is their thing. For others, it isn't," Lopes said. "I found it a hassle. I just don't like studying. I find it a long process to become someone big."
Despite making a decision that is often looked down upon, the finish carpenter has earned financial success.
"I've got quite a lot of money saved up," Lopes said. "I would probably be able to buy a $400,000 home and afford to raise a family in it."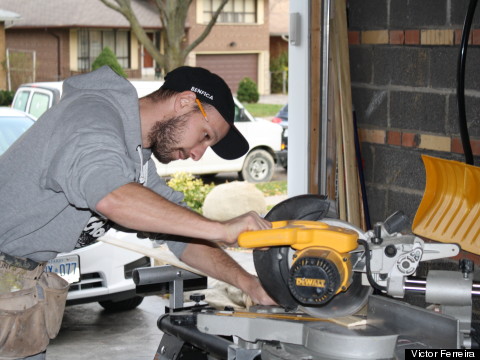 Andre Lopes
Tradespeople are often rewarded for their long hours and physical work with high salaries. Currently, bricklaying offers the most financial stability due to the high wages that workers earn. With an average hourly wage of $40.21, bricklayers earn wages that are competitive with those of experienced electrical engineers having at least three years of experience or of assistant university professors, for example, who need several years of education and experience. Bricklaying and some other trades require neither.
"Money has a lot to do with [the decision to not pursue post-secondary]," Lopes said. "It pays to work. You don't need school."
That is not always the case, as statistics show a bleaker side for those who do not pursue a higher education.
In spite of the success stories about entrepreneurs and tradespeople, post-secondary education usually leads to higher salaries over a career. Graduates with a bachelor's degree earn, on average, more than $20,000 a year than high school graduates, a Statistics Canada study says.
A bachelor's degree also gives graduates a higher chance of being employed. In 2011, almost 76 per cent of those with a university degree, aged 15 to 24, were employed, compared with the 64 per cent of high school graduates.
On top of that, fields that require university or college education also tend to have a higher salary potential. The same cannot be said about working in a trade.
In areas such as carpentry, advancement can be achieved through entrepreneurship. Although carpenters do have the chance to work for their unions or as a site manager, promotion is rare.
Although several careers, such as that of a pilot, do not require more than high-school education, workers must still participate in vigorous training programs. Becoming an electrician or a plumber requires several years of apprenticeship under a more qualified worker. Qualifying as a carpenter, bricklayer or roofer, for example, also requires an apprenticeship, but the process is much more lenient.
With Carpenter's Local 27, the union with which Lopes completed his apprenticeship, programs last at least four years. Apprentices begin work on a 30-day probationary period during which they earn $12.80 per hour, 40 per cent of a full carpenter's salary. After obtaining a clearance slip from the union along with safety training, workers become first-term apprentices and receive a 10 per cent raise.
Apprentices must work a minimum of 1,800 hours a year in order to rise to the next rank, earning a 10 per cent raise each time. When workers reach the highest and final rank -- fourth-term apprentice -- they earn $27.20 an hour. Successful completion of this term along with testing at the union can earn workers full carpenter (master) status and, with it, another 15 per cent raise to $32.00 an hour.
In many circumstances, graduates who wish to work in trades simply to escape the classroom will find themselves hurled back into one.
Despite having saved enough money to support themselves for the foreseeable future and earning more per hour than the average Canadian, both Lopes and Silva fall short of making the average income of $46,000 in Canada.
Lopes, the finish carpenter, recognizes that there is a long-term risk to working in a trade that is often seasonal.
"In the long run, it might bite you in the ass," he said. "If the money is still good and carpentry is in demand, [I wouldn't mind doing it for the rest of my life], but if it dies because of a recession, then I'll be forced to look for something else."
There is substantial risk for high school graduates who ignore post-secondary education. In order to lead successful lives, they may have to work twice as hard as any university or college graduate, something that Silva admits, but which does not intimidate him.
"I'm a firm believer in the fact that you are successful if you want to be," Silva said. "Those who don't [find success] only don't because they're lazy. You don't even need high school. If you stay dedicated, you'll be successful."
This feature was produced by Victor Ferreira, a student in Ryerson University's School of Journalism, in partnership with The Huffington Post Canada.