Getty Images
Despite being told that the world would be their oyster, millennials are pessimistic about the future of their own generation and of the ones that will follow, according to a poll conducted for The Huffington Post Canada.
The survey by Abacus Data polled 1,004 Canadians aged 18 to 30 between Oct. 23 and 25 on a variety of issues. It found 72 per cent agreed that the challenges Gen Y face make it tougher to get ahead than it was in the past.
Almost one in three respondents identified jobs and the economy as the biggest challenge facing Generation Y, while 15 per cent said personal finances, savings and debt load were their greatest obstacles to moving forward. But not all millennials pointed to pocketbook issues: 12 per cent identified their own generation as the problem (that they feel entitled, are spoiled or are lazy).
Perhaps as an indication of the life cycle of millennials, those aged 21 to 27 were more concerned with unemployment than those aged 28 to 30. But jobs remain a top concern for all of Generation Y: 29 per cent ranked it as their No. 1 issue. Those with a university education were especially worried about the availability of good jobs.
Another 14 per cent ranked personal and student debt as their top issue, while 12 per cent (particularly the younger members of Generation Y) thought the cost of education was most important. But millennials have a social conscience as well – 12 per cent ranked pollution and environmental protection as their top issue.
"Older Canadians think our generation is spoiled, entitled, and lazy, but the reality is that Canadian millennials are practical and aware of the challenges they face," Abacus chief David Coletto said.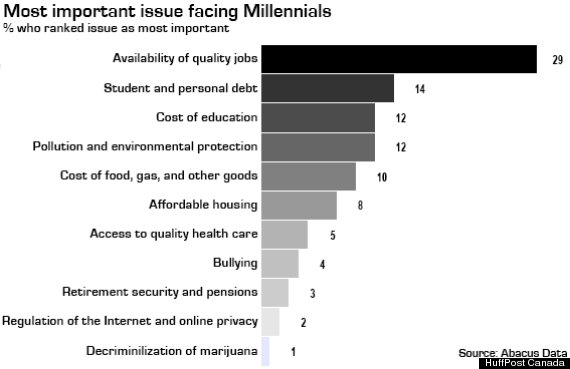 But hitting the job market with few prospects comes as a surprise for many -- 85 per cent said their parents told them they could achieve anything they wanted. Interestingly, this may have been more of a Canadian phenomenon, as only 70 per cent of millennial immigrants said the same thing.
"We are a generation constantly told that we can achieve anything and that when we graduate the entire world will be ours to conquer," Coletto said. "Fat chance -- the Great Recession had something to say about that."
That gloomy reality has led to a great deal of pessimism, and 62 per cent of respondents disagreed with the idea that the next generation would be better off than their own. Only 19 per cent agreed. Worryingly, this pessimism is not exclusive to the oldest millennials – only 18 per cent of those between the ages of 18 and 20 felt that the next generation will have things better, no different than those between the ages of 28 and 30.
"Millennials face record levels of personal and student debt, high unemployment and intense competition of jobs, and a political class that completely ignores their needs," Coletto said. "We only have to look at the Quebec student protests to realize that things are not all right with our youngest generation. We're getting frustrated, worried, and have lots of spare time … a good mix for civil unrest."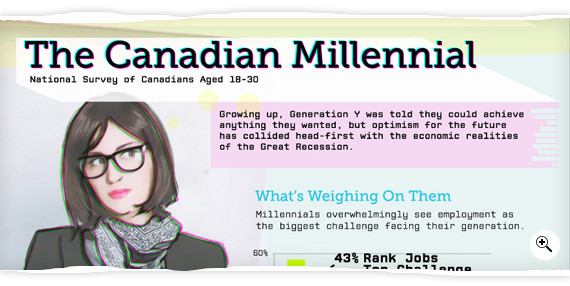 There is also a degree of frustration with how their own challenges are viewed by their parents. Almost two-thirds thought older Canadians do not understand how difficult things are for young people, and a vast majority of respondents agreed that they do not see eye-to-eye with older generations. Roughly four in five respondents agreed that, when it comes to technology, work-life balance, and tolerance of other people's differences, millennials are somewhat or very different from their parents.
The pessimism millennials have when it comes to the future speaks to the stark differences between the era in which they grew up and the one in which they find themselves now. The 1990s and early 2000s were a time of prosperity, while the world has been stumbling from one crisis to the next since the financial collapse. How this will colour millennials' attitudes as they enter middle age, and what consequences it will have on their own children, may not be known for decades.
Éric Grenier taps The Pulse of federal and regional politics for Huffington Post Canada readers on most Tuesdays and Fridays. Grenier is the author of ThreeHundredEight.com, covering Canadian politics, polls and electoral projections.
Also on HuffPost
90 Awesome Things From The '90s