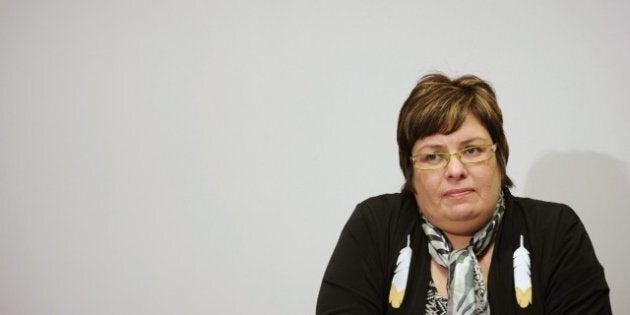 HALIFAX - An aboriginal activist from Nova Scotia says a First Nations chief who launched a hunger strike in opposition to federal omnibus legislation is a warrior standing up for all Canadians.
Shelley Young wept Friday at a panel discussion in Halifax as she spoke of Chief Theresa Spence of the Attawapiskat First Nation in Ontario.
Young, a university student, organized the panel discussion on a national day of action against Bill C-45, which First Nations say will affect treaties and traditional land use.
"She is a warrior in our eyes because she's standing up to the government, she's saying the pain is too much," Young, 30, said in an interview.
"I think sometimes we have to do the extreme to get the attention of the government, because they're ignoring us."
A peaceful demonstration was also held along Highway 102 in the Truro area, causing delays for about eight kilometres. The RCMP was monitoring the demonstration, but said there were no incidents.
In Ottawa, aboriginal leaders were set to march through the streets and take part in a rally after meeting with Spence, who's been demanding a meeting with the prime minister and the Governor General.
The events were organized as part of the aboriginal Idle No More movement.
Young said the movement has, "spread like wildfire."
"We're not just speaking up for ourselves, we're speaking up for the rest of Canada," she said. "We know that our treaty rights protect the waters and waterways. We want to do something about it."
Cheryl Maloney, president of the Nova Scotia Native Women's Society, said every Canadian — not just First Nations — should be concerned about the legislation.
"The level of consultation to Canadians is horrendous," she said in an interview.
"I'm hoping that Canadians say, 'Oh my God, thank you First Nations for waking us up,' and not 'Oh my God, what now?' Because that's the attitude we've been getting."
Members of the Canadian Auto Workers union and the Nova Scotia Government and General Employees Union took part in the panel discussion to voice their support for First Nations.
"We stand in solidarity with you on your struggle against Bill C-45," Kelly Murphy, a member of the NSGEU's board of directors, told the crowd of about 70 people.
"Your fight is our fight, and we will stand with you."