CP/AP
2012 might not be the end of the world but it hasn't been kind to these five Canadian newsmakers. We take a look at the biggest losers of the year:
1. The NHL Photo: NHL commissioner Gary Bettman has been one of the reasons why the NHL remains locked out. (AP photo)
It wasn't long ago that NHL players and NHL owners left fans out in the cold. In 2004, stubborn-headed owners and players forced the cancellation of the NHL season. The Stanley Cup, one of the oldest trophies in professional sports, was not awarded. The previous time that happened was in 1919, when a global flu pandemic swept the globe and North America was still recovering from the First World War.
Just a few short years later, here we are again. The stadiums are empty, the bars quiet, fans' jerseys and face paint still squirreled away. It's clear that the collective bargaining agreement put into force in 2005 was not enough to keep costs down. Or is it because the NHL insists on trying to expand into markets where teams just cannot survive or, worse, cost the league money.
Owning a hockey team in Canada is a licence to print money. It's why the Maple Leafs, valued at a billion dollars, are the most valuable team in the league. It's why money-making Canadian teams foot the bill for teams in the U.S. sun belt. Forbes estimates that more than half the league is losing money while Canadian teams like the Leafs, the Canadiens and the Canucks rake in the cash.
At the other end of the spectrum, there are teams such as the Phoenix Coyotes, a team that has been bankrupt and owned by the league since 2005, or the Tampa Bay Lightning and the Florida Panthers, both money losers.
The league is broken, and it's going to take something drastic to fix it. It might come in the way of revenue sharing, moving teams to stronger hockey markets (we hear Hamilton is dying for a hockey team), or shutting down teams in unsustainable markets.
There are no winners in this lockout. The league had a real chance to make inroads into the U.S. this year. Coming off an improbable championship, the Los Angeles Kings could have made hockey a feasible sport in southern California. The New York Rangers would have been Cup contenders, and the New York Islanders are now in Brooklyn. Meaning the NHL has a bigger footprint in the U.S.'s largest media market. The Minnesota Wild signed two of the most notable American players of their generation in Zach Parise and Ryan Suter.
Instead players are forced to sit out and not do what they do best. Of course there are the fans, who are all but resigned to the fact that the chance of seeing professional hockey dwindles by the day.
— Ron Nurwisah
2. Rob Ford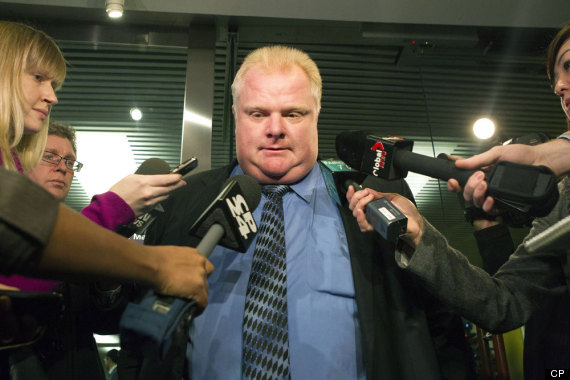 Photo: Under pressure much? Toronto Mayor Rob Ford has had a tough year. (CP photo)
Welcome back to the list, Mr. Mayor. When you were here this time last year, you were limping after a year of gaffes, many of them self-inflicted.
There was the Mary Walsh incident at your driveway, your tiff with Margaret Atwood, not going to the Pride parade and an open feud with the Toronto Star. All of this left you with a not-so-impressive sounding 37 per cent approval rating. A wiser man or a smarter politician would have changed tack, or tried to play nice with some of his opponents, build bridges and all that. But not you, sir. Not you.
We didn't think it was possible, but 2012 was actually a worse year for you. Early in the year, Karen Stintz, the woman you picked to be your transit boss staged an open revolt and crippled any hope of your pushing through your transit strategy. She has also emerged as a possible mayoral rival when your term comes up in 2014.
There was the incident with Star reporter Daniel Dale at your home in May that revealed again just how dysfunctional your relationship is with Toronto's media.
Your peculiar obsession with football has also got you into a lot of trouble this year. You've been criticized for skipping out on council meetings to coach your high school football team.
There's also some confusion whether you pressured the TTC to divert buses to make sure your football team didn't have to wait in the rain after a game.
Then there's the tiny matter of the conflict-of-interest lawsuit that forced a judge to remove you from office. Legal manoeuvres mean that you're the mayor for now, but it will also mean that you will be in a legal fight well into 2013. We had thought that maybe you could turn things around next year, Mr. Mayor. It certainly doesn't look that way.
— Ron Nurwisah
3. Dalton McGuinty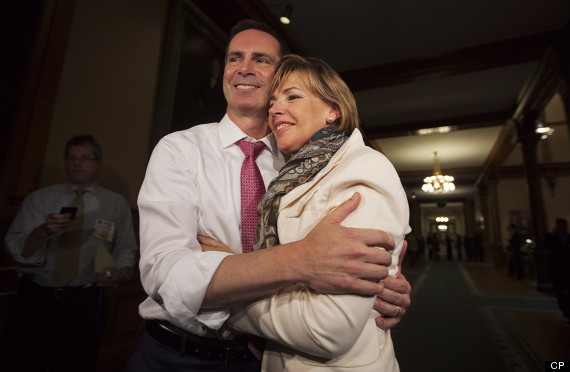 Photo: Ontario Premier Dalton McGuinty and his wife, Terri, the night Premier McGuinty announced his resignation. (CP)
It's an inevitability of every democracy: Leaders and parties lose their lustre. Dalton McGuinty's nine-year reign as premier of Ontario was marked by a certain calmness in leadership style. The press didn't call him Premier Dad for nothing. So when a defeated-looking McGuinty announced in October that he was stepping down as Premier, it took a lot of people by surprise.
After McGuinty and his Liberals managed to survive the last election and claim a minority government, many thought that McGuinty had weathered the storm of scandals and tough economic times that made the 2011 election a difficult one for his party.
McGuinty and the Liberals alienated the province's bureaucrats by freezing their wages, and they angered the province's teachers' unions by ramming through Bill 115, which suspended the unions' rights to strike. The party is still suffering the fallout from both of these decisions.
In the end, however, it was scandal that tripped up the Liberals and gave their opponents so much ammunition in 2012. Throughout the year, the Toronto Star revealed mismanagement and corruption at Ornge, the company responsible for Ontario's emergency helicopter services.
But that wasn't the scandal that would doom McGuinty. During the last days of the 2011 election, the Liberals vowed to scrap a pair of controversial powerplants in two GTA ridings.
The move was seen as opportunistic, not to mention expensive – it ended up costing Ontario taxpayers hundreds of millions of dollars. That was a scandal that hounded the Liberals and McGuinty for months and eventually led to his resignation.
2013 isn't going to be an easy year for the Ontario Liberals. The eventual winner of a potentially bruising leadership contest will have to deal with the fallout of McGuinty's last move before resigning, proroguing the legislature. They will also have to contend with an emboldened Opposition that will see a rookie leader and a demoralized party as the perfect opponent in an election.
— Ron Nurwisah
4. Bev Oda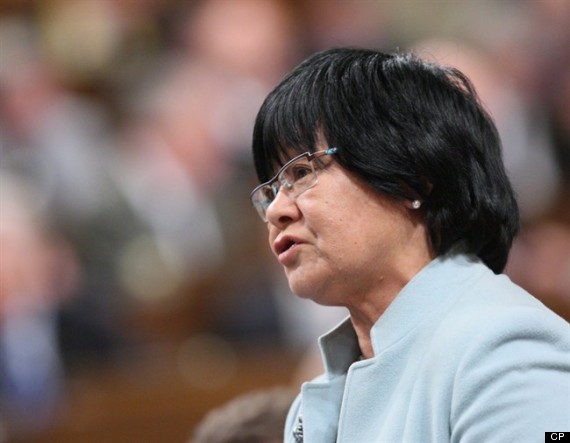 Photo: Former minister Bev Oda was a lightning rod for controversy. (CP photo)
The Tory minister with the Roy Orbison sunglasses probably thought that 2012 couldn't possibly be as bad as 2011.
Oda had barely survived the revelation that she directed staff to alter a document in order to deny funding to KAIROS, a faith-based social justice group, and lied about it before a Commons committee.
The "not" affair (for the word Oda inserted into the funding document) was overshadowed in 2012 by an expense scandal that would leave taxpayers enraged and Prime Minister Stephen Harper at the end of his patience.
It started with a Canadian Press story by Jennifer Ditchburn about a trip Oda took to England to attend a conference in London.
Ditchburn revealed that Oda had switched from one swanky hotel to another at more than twice the price. The minister also booked a limousine, at a cost of nearly $1,000 a day, that she would not have needed had she remained at the first hotel.
It was the $16 orange juice, however, that everyone will remember.
At first, it seemed Oda might survive the scandal. She acknowledged that her spending was "unacceptable" and paid back the difference between the hotels and, eventually, the limo as well.
After all, Oda had lived to tell the tale after two previous limo scandals in 2006 and 2008.
But Harper's patience was at an end.
After all, Oda had lived to tell the tale after two previous limo scandals in 2006 and 2008.
But Harper's patience was at an end.
The Tories had campaigned for years on government accountability and fiscal responsibility in the wake of the Liberal sponsorship scandal, and Oda was stepping all over that work.
Harper planned to cut her from cabinet, but she resigned instead. It took just a day for the prime minister to give her job to Julian Fantino.
That wasn't the end of the scandal. Before the ink was dry on Oda's resignation, Sun News reported that she had expensed air purifiers for her office so that she could smoke inside, and The Canadian Press reported that she also claimed as an expense a fine she received for smoking in a hotel room.
But Oda will have plenty of her own money to pay for such expenses in retirement – the Canadian Taxpayers Federation estimates the value of her pension at $800,000.
Regardless, Oda is a loser this year. Her career ended in disgrace and her party was publicly embarrassed.
Luckily for the Tories, voters tend to have short memories.
In November, Oda's former riding of Durham, Ont., elected another Conservative MP.
— Michael Bolen
5. SNC Lavalin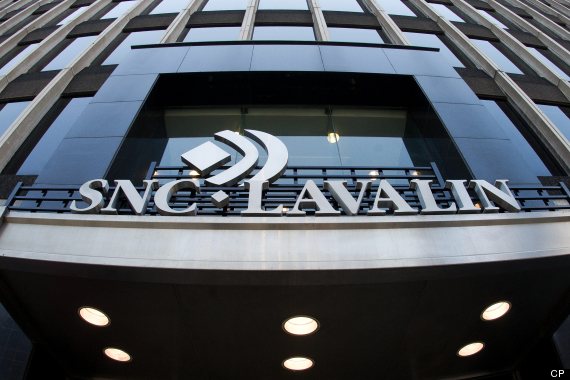 SNC Lavalin, one of Canada's largest companies, was in the headlines this year for all the wrong reasons.
The civil war in Libya that culminated in the death of dictator Muammar Gaddafi may have done more than end a brutal North African dictatorship; it may have started a domino effect that now threatens the reputation — and possibly existence — of Canada's largest construction and engineering firm.
Quebec-based SNC-Lavalin entered 2012 in the midst of an international relations firestorm, and things largely went downhill from there. In fact, the firm had so much bad publicity this year that it would have to have transformed itself into an American investment to have done any worse.
SNC found itself the target of uncomfortable questions when, in November 2011, Cyndy Vanier, a hired consultant for the firm, was arrested in Mexico and charged with leading a plot to help members of Muammar Gaddafi's family sneak into Mexico.
The scandal highlighted SNC-Lavalin's involvement with the Gaddafi regime, a fact that came under increased scrutiny during the NATO war against the North African dictator.
SNC had cultivated relations with the Libyan regime to the point that it was a major contractor for the government. When rebels took SNC-Lavalin's Libyan headquarters last year, the company had been busily building a prison to house those rebels.
As 2011 moved into 2012, the Libya scandal's focus shifted from Cyndy Vanier (who still sits in a Mexican prison awaiting trial) to Riadh Ben Aissa, whom The Globe and Mail described as SNC's point man for Libya.
Swiss authorities arrested Ben Aissa in the spring in connection with a Swiss probe into "suspicion of corrupt practices, fraud and money laundering in connection with dealings conducted in North Africa."
Aissa, who held the title of vice-president of construction at SNC-Lavalin, had resigned from his job several months earlier. His resignation coincided with the discovery of tens of millions of dollars in "inappropriate" payments that appeared not to have been used for the projects to which they were billed.
Investigators reportedly suspected the money of having been used for bribes to land contracts in Libya, Bangladesh and elsewhere. CBC News reported on an unnamed SNC insider who wrote a "poison email" accusing Ben Aissa of funneling hundreds of millions of dollars to Gaddafi.
Estimates about the amount of money involved have fluctuated wildly depending on the source, from a low figure of $32 million to a high of $139 million, recently cited by Swiss authorities.
The allegations could also cause legal trouble for SNC at home, as Canada's Corruption of Foreign Public Officials Act makes it illegal to bribe authorities in foreign countries.
The issue of mysterious payments laid low SNC's chief executive officer, Pierre Duhaime, in March. Duhaime, who had strongly argued against an inquiry into construction industry corruption in Quebec, resigned after allegations that he had signed off on payments to unknown agents in Libya.
SNC board chairman Gwyn Morgan said at the time that he did not believe the money Duhaime signed off on ended up being used as bribes. Bribes or not, the payments now had the full attention of Quebec law enforcement agencies, and last month the province's anti-terrorism unit arrested Duhaime. He faces charges of fraud, conspiracy to commit fraud and use of false documents.
Nonetheless, like the American investment banks mentioned above, life goes on for the "too big to fail," even when those too-big companies are construction firms. SNC's constant bad publicity didn't stop it from winning a contract to build Ottawa's long-awaited urban light rail, as well as the fourth line of Vancouver's light rail network.
Yet with Vanier, Ben Aissa and Duhaime all facing legal proceedings next year, we don't expect 2013 to be much better for SNC than 2012 was.
And we here at HuffPost sincerely hope the company's experience becomes a valuable cautionary tale that prevents Canadian firms from behaving badly when doing business in the sketchier parts of the world. But with all the contracts Canadian governments have heaped on SNC-Lavalin in recent months, we're not holding our collective breath.
— Daniel Tencer
What do you think of our picks for Canadian news losers? Let us know in the comments. For more end of year content, check out our dedicated page.
Also on HuffPost
Best Canada Photos Of 2012 By CP