CP
Who had a great 2012? We take a look at five of the biggest Canadian news winners of the year.
1. Quebec Student Movement Photo: Quebec student protests paralyzed the province for most of the spring and summer. (AP photo)
When students at several of Quebec's largest universities first went on strike to protest against the provincial government's plan for a sharp rise in tuition fees, it seemed unlikely that the movement could succeed.
The province's Liberal government was heading into election season, and many thought then-premier Jean Charest could use the crisis to his advantage.
With a corruption inquiry looming, Charest was in desperate need of something with which to distract the electorate. With public opinion firmly in favour of the tuition hike, it looked like the Liberals might be able to use the student unrest as a wedge issue to help win another term.
The fact students in Quebec already paid the lowest tuition in the country wasn't hurting Charest's chances either.
But then the government passed Bill 78, legislation that severely curtailed the right to protest.
Opinion quickly turned against the law, and the protests began to take on a different character. The demonstrations were no longer just about tuition.
Quebecers young and old took to the streets to bang pots and pans in solidarity with the students and their ideals. Social issues, economic justice and the environment were now part of the conversation.
After a series of failures by the province to reach an agreement with the student unions, it became clear that the election would ultimately settle the dispute.
On the night of Sept. 4, Pauline Marois and her Parti Québécois won the right to form a minority government.
In a stunning victory for the student movement, the tuition hike was cancelled at the government's first cabinet meeting.
The students succeeded where so many thought they would fail and helped bring down Charest in the process.
And their victory did not stop there.
The PQ has effectively put an end to the asbestos industry in the province, will shut down the province's sole nuclear plant and has placed a moratorium on fracking for shale gas, all issues important to the movement.
In a recent interview, Gabriel Nadeau-Dubois, one of the student movement's most visible figures, told HuffPost that, while he is pleased with the direction the government is taking, the PQ is doing so only because of popular pressure.
And that may be the student movement's greatest victory: reminding all Canadians that our elected officials must be held to account, not only at the ballot box, but in the streets.
— Michael Bolen
2. Justin Bieber and Carly Rae Jepsen Photo: In an industry where popstars last months, Justin Bieber has remarkable staying power. (AP)
Forget Chavril, 2012 was the year of Carly Rae Jepsen and Justin Bieber.
Already one of the biggest popstars in the world, Bieber reportedly first heard Jepsen's "Call Me Maybe" on the radio on a January trip home to Stratford, Ont.
In other words, 'Hey, I just heard your song, and this is crazy. But I'm Justin Bieber, so call me, maybe?'
Originally released on Sept. 20, 2011, "Call Me Maybe" was only a moderate Canadian success. The Bieber connection, however, would make the song a worldwide earworm, the undisputed Billboard song of the summer. It sat at the top of the Billboard Hot 100 for nine weeks – the longest reign of any Canadian artist.
The Biebs and his manager, Scooter Braun, announced Jepsen's signing to Braun's Schoolboy Records label in the U.S. on Feb. 14, 2012, the same day as the release of her "Curiosity" EP. But on Feb. 18, the song hit the stratosphere with a "Call Me Maybe" YouTube lipdub video starring Bieber, Selena Gomez, Ashley Tisdale, and other teen stars bouncing around, singing the song. After word of the event spread to Bieber's more than 20 million Twitter followers, the official video – released on CarlosPenaTV's YouTube channel – was viewed more than 54 million times as of December. The video sparked a worldwide sensation and, until a certain South Korean megahit came along, was THE viral video meme of the year, with everyone from Katy Perry to James Franco to the U.S. 2012 Olympic swim team putting their spin on the catchy jam.
"Maybe" became a coy, cheeky smash hit because of Bieber, the mogul.
Jepsen, a Mission, B.C., singer-songwriter, released her second album, "Kiss," on Sept. 18. She has sold more than 10 million digital copies of "Call Me Maybe" worldwide, making it one of the best digital-selling singles of all time. Now, the song is nominated for two Grammy Awards, including Song of the Year.
Bieber did not sit still either. "Believe," his third album, was another megahit that reached the top of the charts the week it was released. He continued to sell out stadiums and cause headaches for local law enforcement wherever he appeared. Pop music has always been a ruthless business in which hot acts find themselves has-beens in a blink of an eye. Bieber's ability to stay on top of the charts and in the minds of fickle teens round the world is eyebrow-raising, even if you don't like his music.
What's interesting about Carly Rae Jepsen's success is that it points to one possible future for Bieber. If his global celebrity fades and the crowds stop packing the stadiums, he doesn't have to fade into obscurity. His manager Scooter Braun has created a global pop-music empire. With any luck, the golden boy from Stratford will stay part of it for years to come.
— Joanna Adams
3. Justin Trudeau
Photo: Justin Trudeau lands a blow against Tory senator Patrick Brazeau in a boxing match earlier this year. (CP photo)
'Prime minister in waiting' has been Justin Trudeau's unofficial title ever since he became an MP in 2007. But it was in 2012 that Canadians actually started to think that Pierre Elliott Trudeau's first-born son might actually be up to the job.
It started with his heavily publicized boxing victory over Tory Senator Patrick Brazeau in March.
Many Canadians took one look at Brazeau's biceps and decided that Trudeau didn't stand a chance.
Trudeau, meanwhile, hit the gym, honing his skills and strategy.
On fight night, Trudeau endured savage strikes in the first round, calmly waiting for Brazeau to tire. When he did, Trudeau used his reach advantage and superior technique to score a convincing victory.
With one swing, Trudeau put his reputation as a flaky, inexperienced golden boy behind him. All of a sudden, he started to look like a real contender.
The shift in perception could not have come at a better time for the MP from Papineau.
The question of whether interim Liberal leader Bob Rae would try to stay on as the chief of the troubled party was already on Ottawa's mind. Now, it could not be considered without reference to Trudeau.
Eventually, Rae decided not to run, and it seems likely Trudeau's growing momentum had more than a little to do with the decision.
When Trudeau formally launched his leadership campaign in October, Canada's TV networks carried the speech live. Trudeaumania, the sequel, was upon us.
Then came the polls, many of them pointing to the possibility that a Trudeau-led Liberal Party could actually win a majority.
Trudeau faces at least two credible challengers for the Liberal crown in Marc Garneau and Martha Hall Findlay and has already suffered through a few campaign missteps, but it is difficult to imagine anyone else accepting the leadership at the Liberal convention in April.
And if he does win, Trudeau will be able to credit more than his famous name and boxing victory.
He has taken an unlikely stand on foreign investment, reached out to young people and made it clear he will not back down from a fight.
The next federal election is still a long way off, but Trudeau was certainly on the right path in 2012. If he can maintain the momentum, he may very well put the 'in waiting' part behind him.
— Michael Bolen
4. Canada's Banks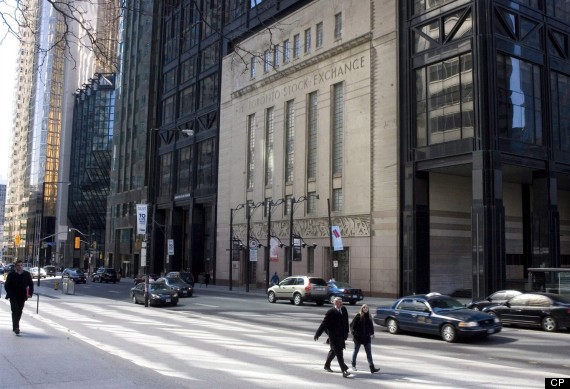 Photo: Things were looking up this year for Canada's banks. (CP)
This wasn't the best year for banks around the world. Major names like Bank of America, Citigroup and Deutsche Bank all announced layoffs, and analysts made much ado of the shrinking banking sector, which has shed 160,000 jobs globally in the past few years
.
Not so in Canada, where the big five posted record profits – even in the face of deteriorating business conditions.
A quick rundown of the numbers: RBC led the way, posting a record $7.5 billion in profits in fiscal 2012, up 17 per cent on the year; BMO saw its profits jump by about a quarter; Scotiabank hit a record $6.5 billion in profit; TD saw its profit jump more than 10 per cent; CIBC's profit jump was somewhat smaller than the others.
Meanwhile, the global financial industry continued to shower Canada's banks with accolades, a trend that started with the financial crisis, when Bay Street's big names pulled through relatively unscathed. The big five dominated this year's Bloomberg list of the world's strongest banks.
And it all culminated with the poaching of Bank of Canada Governor Mark Carney by the Bank of England – perhaps the clearest sign yet that Canada's financial system is the envy of the world.
What makes the banks' performance even more remarkable is that it all took place as Canada's economy showed signs of stagnation. Exports have been under pressure, and Canada fell back into trade deficits in the second half of the year. And, more important to the banks, the housing market moved into a significant slowdown, particularly the Toronto and Vancouver markets. Given their dependence on consumer lending, that bodes ill for the banks.
Canada's economy will probably only eke out a 1.5-per-cent growth rate for the year. So how does that translate into the record profits we're seeing at the banks?
For a lot of analysts, it doesn't. For all the positive earnings reports, the credit rating agencies are looking at the numbers and seeing red. Canada's banks were hit with a slew of credit downgrades this year, with Moody's downgrading RBC this summer, over "concerns about high consumer debt levels and elevated housing prices."
Standard & Poor's downgraded Scotiabank just last week, along with the National Bank and four smaller Canadian financial institutions. The agency predicted "pressure on profitability growth, especially in banks' retail businesses" – coded language for a decline in mortgage and consumer lending. Indeed, the CMHC reported a whopping 37-per-cent drop in the issuance of new mortgages in the third quarter of this year.
But perhaps more telling than any analyst's report is CIBC's move this year. Canada's fifth-largest bank shut down its low-end mortgage business, a clear sign that it wants to reduce its exposure to the housing market.
So it seems unlikely that the banks will repeat their winning performance next year. For now, however, the shareholders are happy, pundits are happy, and the employees and executives at the banks are happy, with record high bonuses coming their way.
Yet the one group that might not be happy with Canada's banks is … Canadians.
According to a survey carried out earlier this year, Canucks are growing increasingly unhappy with their banks, largely on account of rising fees.
And Canadians are also reportedly growing more pessimistic about the reliability and stability of their banks, which – given what the credit agencies are expecting – might be pretty smart of them.
— Daniel Tencer
5. Ryder Hesjedal Photo: Canada's Ryder Hesjedal rode his way to victory at the Giro de Italia. (AP)
Cycling has not had a good year in the news. Lance Armstrong, arguably the most famous name in cycling in several decades, was thoroughly disgraced. He has been stripped of his seven Tour de France victories, and his many, many accomplishments have been tarnished.
Canadians do have one feel-good story to cheer about, and it could make a generation of Canadian athletes hop on their bikes or at least pay attention to competitive cycling.
After making the switch from mountain biking to road cycling in 2009, B.C.'s Ryder Hesjedal had a breakout season this year that culminated in his winning the Giro d' Italia, one of cycling's three biggest races. He did it in the most dramatic fashion. After weeks of racing up and down Italy's mountains, Hesjedal gritted his teeth and would go on to win the 3,500-km race by a mere 16 seconds.
He was only the third non-Italian to win the notoriously difficult race in the past 15 years.
"I never thought 'I'm going to win,'" Hesjedal told the Canadian Press the day he won the race. "I was always just focused on having a good ride, and I knew that would put me up there. The day I pulled on the jersey for the first time, I knew I was good and could accomplish something great and that drove me harder."
The Toronto Star's Cathal Kelly called it "among the most impressive individual accomplishments by a professional Canadian athlete. Ever." He's probably right.
And The Walrus Magazine's Richard Poplak, who wrote the definitive profile of Hesjedal back in 2011, says that the Giro win could mark the beginning of the Hesjedal era. We for one can't wait.
— Ron Nurwisah
What do you think of our Canadian News Winners? Who did we miss? Tell us in the comments and come back on Dec. 20th where we'll reveal our picks for News Losers of the year. Check out more Year In Review content on our dedicated page.
Also on HuffPost
Best Canada Photos Of 2012 By CP