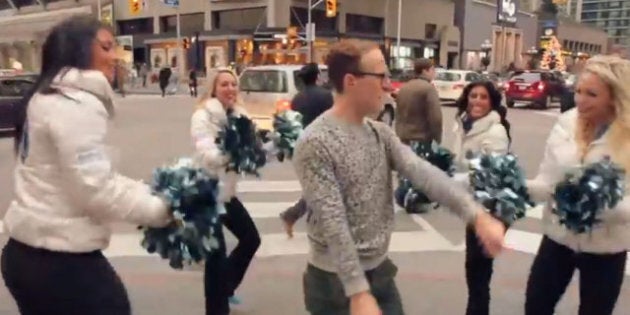 Internet phenomenon Dancing Phil has struck again.
The web sensation known for shaking his hips in public posted a video to his Youtube channel on Wednesday that featured him shamelessly shimmying his way through Toronto's busy Bay & Boor intersection to the tune of Solange Knowles' "Losing You." The clip went viral and made the singer-songwriter wish it was her music video instead!
"THIS is amazing and probably should have been my video. Work," tweeted Beyoncé's younger sister with a link to the clip.
Knowles isn't the first celebrity whose attention was captured by Dancing Phil's shenanigans. Last summer, glitter-laden pop star Ke$ha made a cameo in one of Phil's videos, meeting him outside of her tour bus to shower him in gold confetti from a champagne glass — the ultimate Ke$ha seal of approval.
The stone-faced dance machine also gained notoriety and nearly 100,000 views when he filmed himself busting moves enthusiastically behind unsuspecting strangers for Ellen's Dance Dare and surpassed that number of clicks just by dancing on the subway.
Phil's latest clip, which is just over five minutes long, sees him confusing and amusing passers-by with a set of earnestly-executed dance moves, all the while trying to pass off his scarf to strange men as a part of the routine — this being Toronto, the men all attempt to give the scarf back to him. The video is made complete by what Phil calls a "Christmas Miracle" in the form of stumbling across four Argos cheerleaders who become his impromptu back-up dancers, synchronizing their pom-poms and adding even more quirky legitimacy to his fancy number.