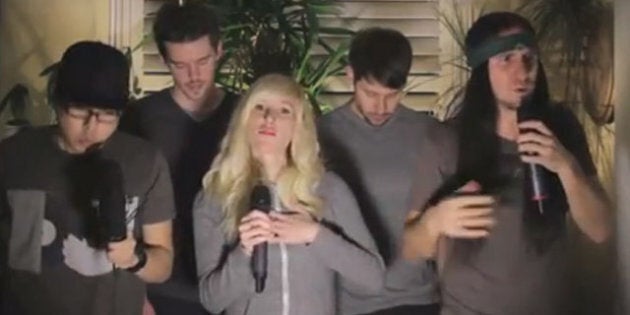 After making their name known internationally with a 5-person-1-guitar cover of Gotye's "Somebody That I Used To Know" that went viral, Burlington, Ontario pop band Walk Off The Earth are back at it again with just their voices for an a cappella cover of Taylor Swift's song "I Knew You Were Trouble."
The video was posted yesterday and already has 250,000 views. It opens with singer Sarah Blackwood performing alone before additional members emerge beside her song. Perhaps the oddest part of the video is that two-time Canadian beatbox champion Terry "KRNFX" Im appears about 40 seconds into the song, adding different noises and backbeats himself that you'd usually hear a DJ create on turntables.
The backing harmonies then morph into a snippet of Solomon Linda song "The Lion Sleeps Tonight," made famous by The Weavers and The Tokens before returning to more of a hip-hop-meets-pop tune. KRNFX also gets some help on the backbeat from other Walk Off The Earth members before adding one more "trouble" at the conclusion, which cracks the band up. More contact info for KRNFX is shown as he pretends to have a dead battery before relaying where to reach him and the band via Facebook and Twitter.
"Hey y'all. Please tweet at @taylorswift13 with our new video to see if she's feelin' it," the band tweeted with a link to the video. "Thanks guys!"
So far Swift has yet to mention anything via Twitter if in fact she's seen the video.
Walk Off The Earth have a lone U.S. date this month before commencing a European tour in March. The band released its last studio effort R.E.V.O. in 2012, which was an EP.