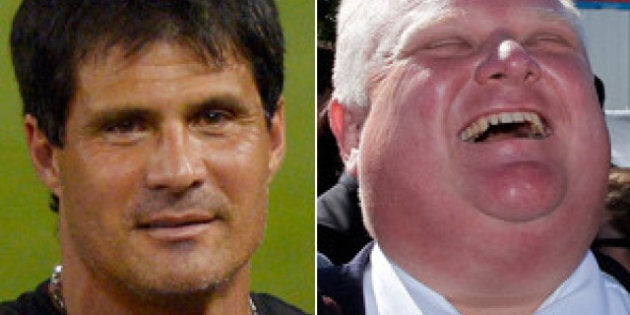 Canseco, who is notorious for his bizarre tweeting habits, took to his favourite social network earlier this week to declare his plans to run against current Mayor Rob Ford in a potential byelection.
It all started when Canseco listed getting "elected to a important political office in the U.S. or canada [sic]" in a series of tweets on his New Year's resolutions. Other notable pledges? A resolution to fight Shaquille O'Neal in a mixed martial arts cage fight and to develop an anti-ageing drink called "Ponce de Canseco."
"Can't do enough on council. I hear you are getting rid of mayor [sic] Ford on Monday. I love Toronto and will be glad to replace him," Canseco posted.
Toronto Star reporter Daniel Dale, who Rob Ford infamously called the police on last year after an altercation outside the mayor's home, also got in on the action, asking Canseco what his platform might include (you can read Dale's story here). The former slugger suggested generating new revenue without raising taxes, as well as fixing the budget, traffic, and schools.
Sound familiar to anyone?
You can see the entire exchange as well as some of the most hilarious responses in the slideshow below.
STORY CONTINUES BELOW SLIDESHOW
Before you get too excited about the prospect of Canseco further burnishing Toronto's reputation for choosing wise leaders, the slugger has already admitted he probably won't be able to run.
But then Canseco confused matters with a new tweet suggesting he's still interested in the job: "Need exact guidelines of what I need to run for Toronto mayor and how long it takes to claim residency. #yeswecanseco."
Were he able to somehow fulfil the legal requirements, he possesses many of the same attributes that won Ford the mayoralty in 2010.
Remember, once upon a time Ford was just a longshot with the gift of gab too.
Canseco played for the Blue Jays during the 1998 season and hit 46 home runs. His statistics as a slugger now carry a prominent asterisk, since Canseco has admitted he used steroids throughout his career. In his tell-all book "Juiced: Wild Times, Rampant 'Roids, Smash Hits & How Baseball Got Big," Canseco accused many of the sport's biggest stars of being on performance-enhancing drugs, a move which hasn't won him many fans among his home-run hitting peers.
As for whether the byelection Canseco wants to run in will even take place, Ford's appeal of a judge's ruling removing him from office will begin on Monday. If the panel of three judges does not overturn the decision, city council will either call a byelection or appoint a new mayor.