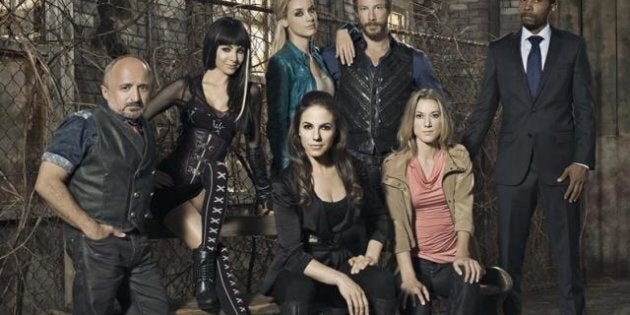 The Garuda was on the verge of destroying faedom until succubus Bo (Anna Silk) and her friends -- Dyson (Kris Holden-Ried), Kenzi (Ksenia Solo), Lauren (Zoie Palmer), Trick (Richard Howland) and Hale (K.C. Collins) -- managed to vanquish their ancient adversary. Victory came with a high price tag, though. Love was lost. Lives were sacrificed. Secrets were revealed and Bo embraced her dark side. In the aftermath, surely things have calmed down enough for the gang to pick up the pieces and catch their breath, right? Not exactly.
When the third season of "Lost Girl" kicks off on January 6 (on Showcase in Canada; Jan. 14 on SyFy in the US), there will be a mysterious new fae named Tamsin ("Birds of Prey"'s Rachel Skarsten) in town. An imminent threat is also looming and Bo has been acting kind of strange lately...
On the final day of filming for season 3, Silk, Holden-Ried, Solo, Palmer, Howland and Skarsten gathered on set to tease what's to come in the third year of "Lost Girl."
So far, Tamsin's true fae nature is heavily classified, but there's no denying her presence is integral to the season's overall arc; she'll be shaking up the group dynamic. For now, though, Tasmin's blood-stained white blouse and a scene involving her mortally wounded friend are good indications of how dire the circumstances are.
"Tamsin comes in to the mix and you're not really sure what her motivations are," explains Skarsten. "While she's very direct, blunt, bold and says it like it is and has absolutely no social grace whatsoever, there's a whole other side to her and all these deeper levels that are uncovered as the season goes along. There's a real vulnerability there that I've enjoyed discovering myself."
Much like Bo, Tamsin has some mommy issues. This time around, that parental figure will be played by sci-fi royalty and "Lost Girl" guest-star, Linda Hamilton. "It was really neat," offers Skarsten about sharing screen time with Hamilton. "Her movie, 'The Terminator,' was made before I was born. That little film. I've obviously seen it and to actually meet her and for her to be so beautiful ... she's not only talented, but she's a real treat. That was a real pleasure. I felt totally honoured because everyone is here all the time and I just fly into the show and get to work with this awesome lady."
Article Continues After Slideshow!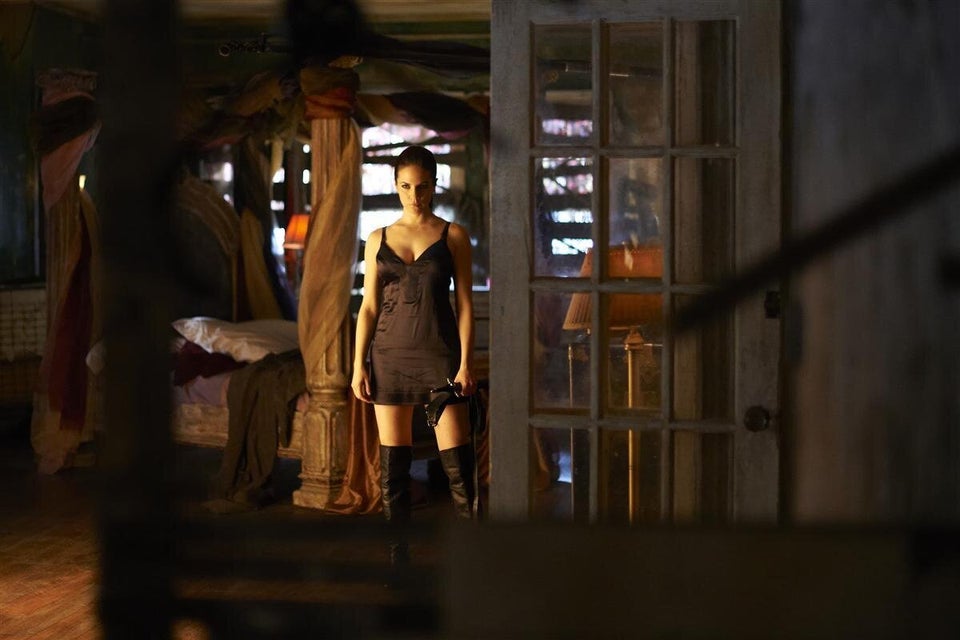 "Lost Girl" Season 3 Photos
As usual, supernatural forces are in motion on "Lost Girl." Season 3 previews suggest Bo may have succumbed to her dark impulses and gone off the deep end. Just when she needs them the most, Bo's little Scooby Gang may be too busy dealing with their own problems to help out.
"For Bo, you got to see the flash of the blue eyes, hinting towards some darkness, which may turn out to be a little different than people think, but there are definitely issues of darkness," says Silk. "That's been really fun for me to get to play with this season."
"Each character has a journey outside of the group," notes Palmer. "Lauren, at the end of last year, had some freedom that she never had before. So this season, it's an exploration of that freedom and who she is and where does she fit in and does she stay or does she not?"
Solo adds, "Last season, we all came together and this season, we all split apart."
"It's more of an internal season as opposed to last season, which was a lot more external," elaborates Howland. "We had the Garuda and we were fighting all this stuff. This year, it's more about internal stories. You see a little more of what's going on in us as opposed to this thing coming to kill us, which there always is. Don't get me wrong. Lots of high stakes."
Bo, Dyson, Lauren and Kenzi's romantic interests were either casualties in the struggle against the Garuda, fizzled out or were abandoned to ensure their safety. Consequently, those heartaches will help shape and define their relationships.
"Bo definitely tries to explore a little bit with monogamy," states Silk. "I don't think a succubus can be inherently monogamous, but we'll see where that goes."
"I think for Kenzi, Nate (Aaron Ashmore) coming into her life really opened up her mind to other possibilities," says Solo. "Even though she's eternally dedicated and loyal to Bo, a tiny little seed has been planted in her heart and brain that she deserves to be happy and wants to be happy and wants to fit in. She's getting tired of not fitting in because, obviously, she's human and that has its challenges."
"Dyson comes off season 2 mended," notes Holden-Ried. "Season 3 is a lot of what he can be, where he feels comfortable, interacting with Bo and he has a bit of a secret."
Magic on "Lost Girl" is unpredictable. It's made them sick, obsessively paranoid and easily cursed. In another fan and cast favourite adventure last year, 'Original Skin,' everyone swapped bodies in Trick's pub. Such antics will be woven in to future episodes as well.
"There's one I am super excited about this year," enthuses Solo. "We have a growl-off. That's all I can say."
"Because of the amount of fan response we had from 209 ['Original Skin'], they definitely tried to work in a couple of that nature," adds Holden-Ried. "303 ['Confaegion'] has vibes of that."
Dyson and Bo are frequently in the middle of some scrap or epic brawl. However, against the Garuda, their friends had to pitch in and really pull their own weight. Kenzi even saved Dyson from some of their foes' minions -- and she'll get her time to brandish a weapon and throw a punch or two again in multiple episodes.
"I've been dying to do more fight stuff since season 1," says an enthusiastic Solo. "I'm like 'Please let me kick some butt!' Finally this year, I've gotten to do it in a very unexpected way. I hope I get more. I love all that stuff."
In real life, Holden-Ried is a champion fencing competitor. So it would a pleasant surprise to see Dyson pick up a blade.
"Dyson fencing? That would be a hoot," Holen-Ried agrees with a laugh. "Dyson is not a weapons guy. He's got his claws. This was actually part of the development of him. There was a point where he was going to be a swords guy, but we were like 'He's a wolf, right?' He gets in a couple of good fights this year."
In a short period, "Lost Girl" has become an international success -- and with good reason. The show's engaging mythology continues to expand while the ever-evolving characters encounter formidable new enemies. Wrapping up our conversation, the cast chimed in on why "Lost Girl"'s upcoming season further raises the bar.
"Hello?"mocks Skarsten, as she points to herself.
"We just continue to find new things," adds Silk.
"We go deeper," notes Palmer. "There's more exploration of our characters."
"The stakes are higher than they've ever been," offers Solo.
"There's some really great interaction," continues Holden-Ried. "Every cast member, every character, gets to have some dramatic, intense storyline. As far as our characters go, it's been one of the best seasons yet."
"It's just been a lot of fun," concludes Howland.
"Lost Girl" season 3 premieres on Showcase on January 6 at 10 p.m. EST in Canada and on SyFy in the US on January 14 at 10 p.m. EST.