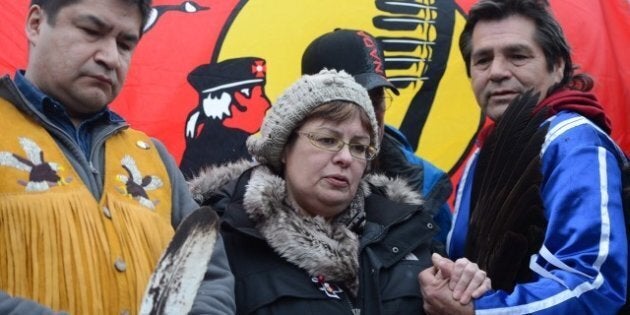 OTTAWA - Attawapiskat Chief Theresa Spence abruptly changed her mind Wednesday, refusing to attend Friday's hard-won First Nations meetings with the federal government because Gov. Gen. David Johnston isn't planning to be there.
Spence — whose month-long protest on Victoria Island was predicated on winning a meeting with both Johnston and Prime Minister Stephen Harper — said she's written to Buckingham Palace to enlist the help of the Queen.
Social-media speculation that Johnston might change his mind was scotched Wednesday afternoon by a spokesperson for Rideau Hall: "As previously stated, the Governor General will not attend Friday's meeting. This has not changed."
But the Prime Minister's Office said details of the Friday meetings had yet to be finalized.
Spence has been camped out on an island in the Ottawa River since Dec. 11, subsisting solely on fish broth and medicinal tea in hopes of convincing Harper and Johnston to sit down with First Nations leaders to discuss historical treaty rights.
Spence wants Johnston — the Queen's representative in Canada — present at the meetings because the talks are supposed to focus on the treaty rights that were established by the Royal Proclamation of 1793, issued by King George III.
"We have sent a letter to Buckingham Palace, requesting that Queen Elizabeth II send forth her representative, which is the Governor General of Canada," she said in a statement.
"I will not be attending Friday's meeting with the prime minister, as the Governor General's attendance is integral when discussing inherent and treaty rights."
A spokesperson for Johnston has said he would not attend the sessions on Friday because they are working meetings with government on policy issues.
The precise issues have yet to be defined. Some clarity was expected Wednesday from Shawn Atleo, national chief of the Assembly of First Nations, but that news conference was rescheduled for Thursday shortly after Spence pulled out.
Spence said Canada is "not acting in good faith," citing the federal government's release of an explosive financial audit that shows a lack of documentation for tens of millions of dollars in spending by Spence's northern Ontario reserve.
"This is a time of crisis and this government of the day is not taking indigenous peoples concerns seriously," Spence's spokesman, Danny Metatawabin, said in the release.
"Canada should take notice and act honourably as their courts have directed the government on many occasions."
The situation also provoked a passionate outburst from Ontario Finance Minister Dwight Duncan, who called the First Nations situation "a national shame" and dismissed the audit controversy as a diversion from real, deep-seated issues.
"This is not about Chief Spence," Duncan said at the Ontario legislature. "This is about mortality rates in kids. This is about kids going to bed hungry. This is about communities that don't have electricity in Ontario."
Duncan said he's angry about the situation, but doesn't lay the blame solely on the federal government.
"This is not a problem that bedevils one government of one political stripe. It's a problem that ought to bedevil every Canadian."
James Anaya, the United Nations' special rapporteur on indigenous peoples, weighed in from Geneva to urge both the federal government and First Nations "to rebuild relationships in a true spirit of good faith and partnership."
Anaya said he is concerned about tensions in Canada and about Spence's health.
"I will continue to monitor developments as I hold out hope that the 11 January meeting will prompt meaningful and restorative action by the government and First Nations leadership," he said.
Aboriginal frustration has been manifesting for weeks in the form of the Idle No More protest movement, which seeks to push back against the Conservatives for threatening aboriginal treaty rights as set out in the Constitution.
The protests, ranging from temporary rail blockades and border closures to shopping-mall flash mobs, have drawn inspiration from Spence and her campaign, which is playing out on a chilly island in the Ottawa River, just upstream from Parliament Hill.
When Harper agreed last week to hold a meeting, Spence said she would attend, but insisted she wouldn't decide whether to end her protest until after the meetings were concluded.
At a news conference Tuesday, Harper acknowledged the challenges facing many First Nations communities, but he said they also represent great opportunities.
"I know that in many aboriginal communities ... the challenges are very great, but the potential is very great as well," he said.
"We do have, for the first time in our history, economic development on a large scale occurring near where many aboriginal people live. We have a shortage of labour and lots of opportunity, and we want to make sure that those opportunities are available for aboriginal people and prosperity is available for them as we move forward."