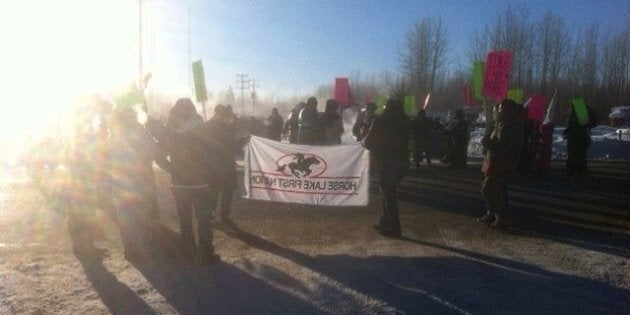 The latest protest action by Alberta First Nations saw the Sturgeon Lake Cree Nation temporarily blockade Hwy. 43 Friday morning.
Approximately 70 people, waving banners and flags representing Sucker Creek and Horse Lake reserves, set up a blockade in front of the band office and backed up traffic for three kilometers west of the band office and approximately two kilometers east of that location, according to Valleyview RCMP Cpl. Shawn Morgan.
"Traffic was halted in both directions for approximately one hour in total but a few vehicles were permitted through about 30 minutes into the protest," he said.
SEE BELOW: PHOTOS OF HIGHWAY 43 BLOCKADE
"Westbound traffic cleared within 5 minutes of the Highway being cleared by protesters while eastbound traffic took approximately 25 minutes to clear."
Protesters then marched west along the highway, from the band hall to the community centre.
The Idle No More native protest movement has spread across the country, with protests, blockades and a a month-long hunger protest by Attawapiskat First Nation Chief Theresa Spence.
PHOTOS: Highway 43 Blockade