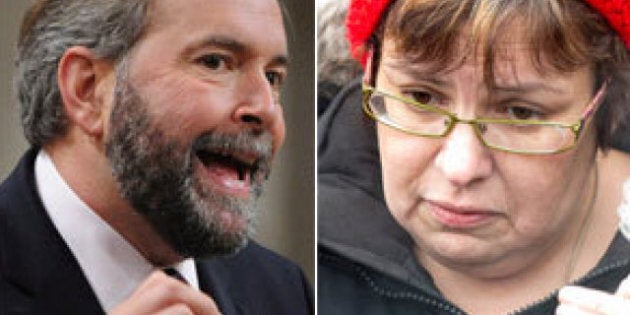 OTTAWA - The leader of the official Opposition and a prominent aboriginal chief have added their voices to the chorus calling for Attawapiskat Chief Theresa Spence to end her liquid-only diet.
NDP Leader Tom Mulcair and former Assembly of First Nations national chief Matthew Coon Come both say the time has come for Spence to start eating solid food again.
"I would sincerely call upon Chief Spence to realize that there has been a step in the right direction, to try to see if now if we can keep putting pressure on the government to follow through," Mulcair told CTV's Question Period on Sunday.
"It has been a year where nothing was done after a very formal meeting. But finally the government seems to be moving, so I think that the best thing to do would be to step back from that now."
Spence has vowed to continue her protest, which involves consuming nothing more than fish broth and tea, until First Nations leaders can get Prime Minister Stephen Harper and Gov. Gen. David Johnston in the same room.
Coon Come, who is also Grand Chief of the Grand Council of the Crees, told CBC Radio's The House that Spence has accomplished what she set out to do when she started her protest Dec. 11.
"I would hope that she would (stop denying herself solid food), for her health. I think she has succeeded. The governor general responded by saying I will meet. Maybe not the way she wanted it. The prime minister said he was going to meet with First Nations. I think both have been done," he said Saturday.
Some chiefs boycotted Friday's meeting between Harper and First Nations leaders, breaking ranks with Shawn Atleo, the AFN's national chief.
Those opposed to the meeting, including Spence, had insisted that it take place on their turf and their terms, with Johnston — the representative of the Queen in Canada — present.
Meanwhile, demonstrators with the Idle No More movement appeared to be regrouping for further demonstrations in the next week with only a few reports of protest activity across the country this weekend.
Protesters have blocked the main rail line between Toronto and Montreal twice in the past couple of weeks, but the country's rail services weren't saying much about their plans for any further such protests.
Via Rail says it's ready for any disruptions, while Canadian Pacific says it is monitoring the situation. CN Rail was not immediately available to comment.