Cap toe shoes have been popping up on celebrity feet everywhere lately—and for good reason. They add the perfect pop to any outfit and can be worn both casually for a nice fall stroll and dressed up for a night out on the town. We were inspired by Massimo Dutti's luxe pair in-store weeks ago and decided to try giving a plain pair of pumps a little bit of sparkle too.
Perfect for your next office party, here's how to make a pair of your own glittering heels.
• Seed beads (I chose silver, but you can choose any colour or colour combination you'd like. You can even use sparkles or sequins depending on how you're feeling or what you find)
• E6000 industrial strength adhesive
• Tape (I used Scotch tape, but masking tape or painter's tape would work well too)
• Popsicle Sticks (bonus: This is a great excuse to eat a Häagen Dazs ice cream bar or two)
• Garbage Bag (the bigger the better)
1. Spread the garbage bag on the floor. I'm not going to lie to you, it probably won't stop you from finding beads under your couch for the next five months, but it will stop the E6000 from making a mess. Tape off the area of your shoes that you'd like to embellish. I found taping off the heel with a few pieces of tape rather than one long strip created a straighter, more precise line.
2. Glob on a generous amount of adhesive to the areas you want to embellish and spread it out evenly using a Popsicle stick. You want the coating to be somewhat thick, but not too thick that it will take too long to dry thoroughly.
3. Pour beads over the adhesive and make sure that all empty spaces are covered. I ended up sticking beads to naked spots with my fingers. The E6000 will stay tacky for a little while so there is no need to stress yourself out. If you do find that it is drying out, dot some more on with a toothpick then continue placing beads in empty spots.
4. Give your shoes some time to dry—I left mine for about an hour—and peel the tape off very carefully. Some beads may shift or come off when you are removing the tape, so you may need to stick them back on.
5. Wear your newly embellished shoes out to that company party or a night out on the town with your favourite little black dress and wait for the compliments to roll in.
RELATED: Designer-Inspired DIY Jewelry In 7 Steps! (PHOTOS)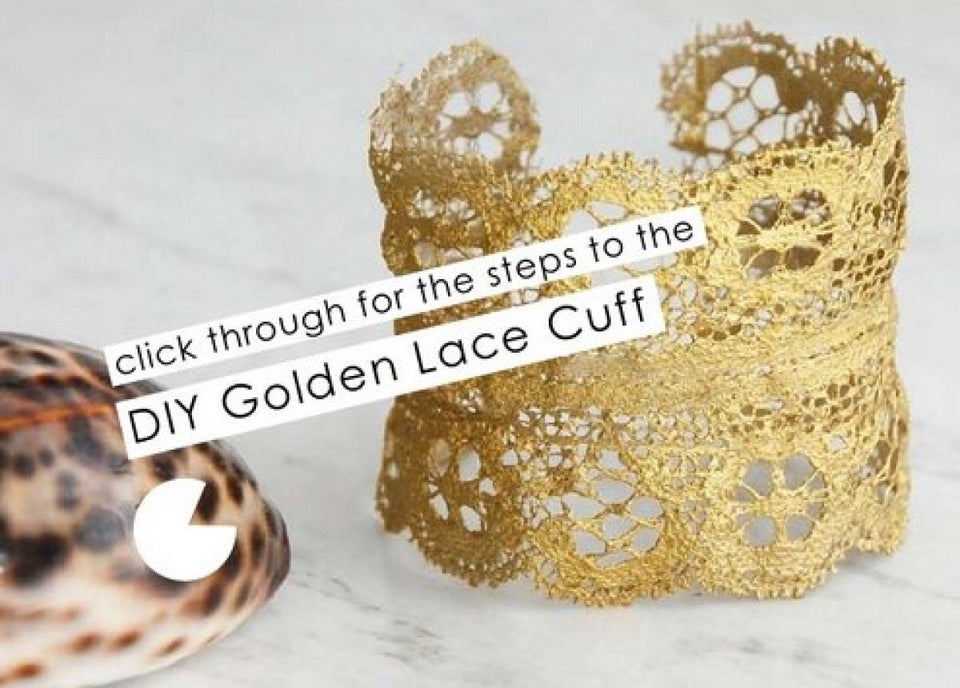 DIY Gold Lace Cuff Bracelet Tutorial