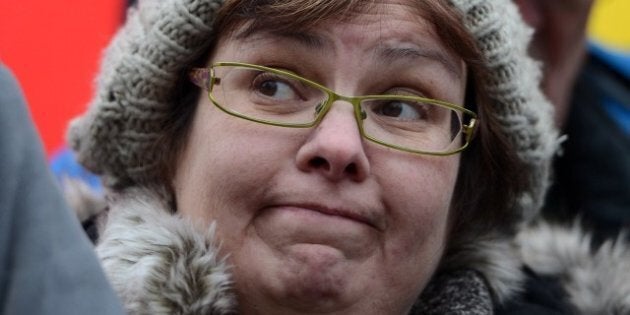 Although a number of First Nations chiefs put pressure on her to end her crusade, Attawapiskat Chief Theresa Spence, so far, is continuing on with her month-long hunger strike.
Spence, who has been living on a diet of fish broth, vitamins and tea since Dec. 11, has insisted she will continue the protest until she gets a meeting with Prime Minister Stephen Harper and Gov. Gen. David Johnston to discuss "treaty issues."
But now that Harper has met with some First Nations leaders on Friday and Spence herself joined other chiefs at a ceremonial event at Rideau Hall with the Governor General, questions may rise as to what effectiveness her hunger strike will continue to have.
"I think the challenge that Chief Spence may face is that a lot of people thought they understood what [she was] looking for was a meeting between the Aboriginal People and the prime minister," said Chris Waddell, director of the School of Journalism and Communication at Ottawa's Carleton University.
"So for a lot of people, they will now say 'Well, there was a meeting between the Aboriginal People and the prime minister. So what's the problem? So if you want to continue the hunger strike, what is it exactly that you wanted that you didn't get that you would be able to get now.'"
- RELATED: Chris Hall: Stephen Harper, First Nations and an opportunity lost
Spence's demands at times have seemed unclear — whether or not she wanted a direct meeting with Harper and Johnson or if a meeting with First Nations leaders and the prime minister and Governor General would suffice.
Waddell said that a hunger strike is most effective if it's clearly linked to specific issues and specific demands, but that it appears in Spence's case, the issues seem to be nebulous.
"In this case, it appears that the reason for the hunger strike changes. When you try to attract attention by doing something like this, you, to some degree, risk losing some of that attention when it doesn't appear consistent to why you're doing it."
Spence's tactic has also been marred by a debate over whether she was in fact on a hunger strike.
Tactic 'devastatingly effective'
"As a tactic, it's devastatingly effective, because it really triggers public sympathy and a tremendous sense of guilt. It's such a visual thing or it can be," said Chris Eby, a senior consultant with Navigator, a Toronto-based communications firm.
"With Chief Spence, I think we're in a bit of a different scenario where she's admitted she's taking vitamins, and fish broth and some medicinal and herbal teas. So I don't know if you can truly call this a hunger strike. I think when people hear that she's taking more than just water or liquids — which is traditionally considered a true hunger strike — it doesn't have the same effect."
Since Spence didn't appear to display any outward signs of malnourishment, it has not been as effective a tactic as it could be, Eby said.
"I'm not advocating that she cause herself any harm, but we do live in a very visual world. If all of a sudden Theresa Spence appeared and looked gaunt and was sick and had noticeably lost a lot of weight, I think it would have a far greater impact on the Canadian public."
Spence's appearance may also have caused some to question her real commitment to the hunger strike, said Patrick Gossage, chair of the public relations firm Media Profile.
"I think it's raised questions in people's minds about how serious she is," he said. "The problem is you have to be willing to die and there are cynics who wonder whether [she's] really going to collapse. There's certainly no sign of it."
But Gossage said Spence will continue to attract attention because the Idle No More movement continues to gather momentum.
"What's kind of fortuitous for her, there's lots else going on. If it was just her, after two or three weeks, and she's not showing visible signs of decay, it would be hard to maintain. But there's so much else going on in this file, she can remain a symbol of it for a long time," he said.
"This Idle No More thing sure has legs. As long as it has legs, it's going to be difficult to ignore this woman."