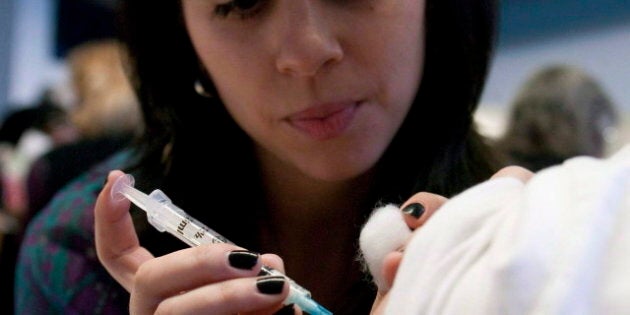 Health authorities in Toronto say they've seen more than 1,000 cases of influenza so far this season — more than triple the number they usually see.
There have been reports of flu at schools, hospitals and seniors' facilities.
"We know the hospitals are very busy," said Dr. Barbara Yaffe of Toronto Public Health, "and everybody knows somebody who has come down with it — and it is hitting people very hard."
About 20,000 people in Toronto have been given a flu shot this year, fewer than normal.
According to Public Health Ontario, three children in the province under the age of four have died as a result of the flu since September.
On Tuesday the coroner's office said it is investigating the death of a two-year-old Toronto boy who died a day earlier, possibly after a bout of influenza.
His five year-old brother is being treated a Sick Children's Hospital.
Dr. Yaseer Mansour, a pediatrician, says there are signs parents should look for.
"Persistent fever — more than usually two to three days," he said. "Shivering or any kind of persistent vomiting, or change of mental status, lethargic or any confusion."
But he also says parents should trust their instincts. If they notice a change in their child's condition "just come, we can have a look."
Public health officials also say there's still time to get a flu shot before the next wave hits, probably in February.