Some of those who formed the blockade on the highway, which is the main link between Calgary and Edmonton, were run down by a truck, as it attempted to burst through the highway blockade, prompting supporters to jump onto the truck. A protester repeatedly said, "You're going to kill someone," as the driver attempted to drive through the crowd. No injuries were reported.
Counter protesters also staged their own demonstrations, with banners that questioned the protesters' level of education, while another sign read, "Reserves are Canada's spoiled children!"
Idle No More activists blockaded roads and slowed traffic across Alberta Wednesday, in a show of solidarity with protesters who staged similar demonstrations throughout the country.
LOOK: Protesting The Idle No More Movement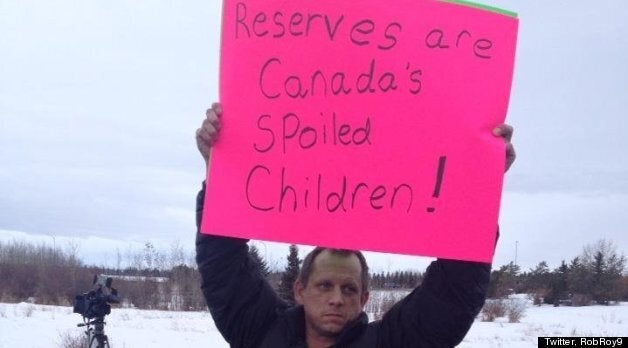 Meanwhile, in northern Alberta, members of the Lubicon Lake Nation took a different approach and planned to set up information checkpoints on roads throughout the oilsands region.
A demonstration is also planned in St. Albert at 4 p.m. today, while another protests took place on Hwy. 55 near Cold Lake, The Globe and Mail reported.
Elders organizing the St. Albert event say the demonstration will be peaceful one and won't last more than 30 minutes, the RCMP states.
CORRECTION: A previous version of this story stated incorrectly that the driver of the truck said they were going to kill someone as they drove through the crowd. It was one of the protesters who said, "You're going to kill someone."