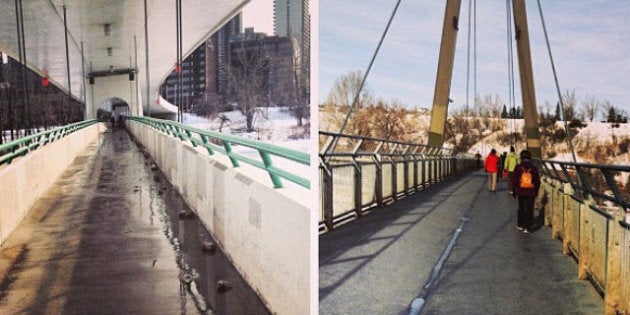 Cities and towns around Alberta may have smashed through weather records with unseasonably high temperatures yesterday, but don't call it a Chinook.
No, we can't thank those warm winds that occasionally blow over the mountains for a reprieve from the cold. Rather, it's a weather system that's moved in from the Pacific Ocean, blowing down over Alberta and temporarily warming us up.
Story continues after the slideshow...
"The windy pattern will continue for the next little while, particularly for areas west and southwest of the city," Environment Canada meteorologist Bill McMurtry told the Herald.
"These winds are ushering in the warm temperatures. As long as we see warm temperatures, we'll see wind, for the most part.
The balmy weather is expected to remain for the rest of the week. By the weekend, however, a cold front will move in, bringing temperatures down 10 to 15 degrees.
Meanwhile, the weather in northern Alberta is looking less cooperative. Lac La Biche RCMP closed Highway 881 briefly Tuesday night due to accidents along the road. RCMP said all highways in the county are snow covered and icy, and heavy snowfall was making it hard for drivers to see.
RCMP also warned that Highway 63 near Boyle, Alta. was slow-going and that tow trucks were not responding to calls.