A videographer captured a close call at the demolition site of a landmark building in Calgary. The historic building, which once housed the Calgary Herald's newsroom, is being demolished to make room for a business tower.
The video captures a moment where, about 25 seconds in, a huge piece of the building falls off. We're no demolition experts here, but it sure looked like a close call. The person working the machine pauses while dust and debris fill the air. No injuries have yet been reported.
The building, located on the corner of 7 Ave. and 1 St. S.W., is being demolished to make room for a skyscraper that promises to be the tallest in Calgary, beating out the newly constructed Bow Tower.
The new tower is referred to as 225 Sixth and owned by Brookfield Properties. The development proposes building a 56 storey, 247 metre-tall building and a second tower that will be 42 storeys tall in the space.
Story continues below..
LOOK: An Artists Rendition Of The New Tower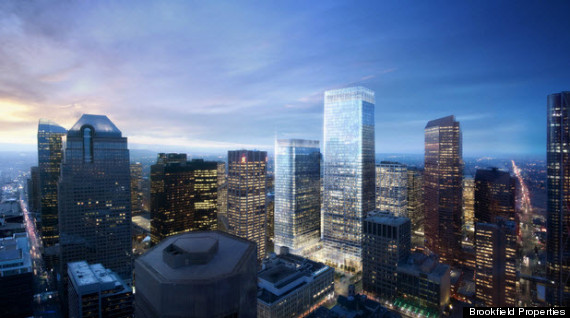 The plan also includes a 50,000-square-foot transparent glass pavilion connecting the open space to the +15 pedestrian skywalk system that connects buildings in downtown Calgary.
The new 225 Sixth building will beat Calgary's newest landmark, The Bow, for the title of being the tallest building west of Toronto. Owned by energy giant Cenovus, The Bow became the first skyscraper in Calgary to stand taller than the Suncor Energy Centre.
The Bow's unique crescent design allows for the majority of the offices to have windows, and its southwest-facing orientation helps make use of sunlight, making the building energy efficient.
Calgary skyscraper enthusiast Aaron Stayner told the Calgary Herald the thought of a new downtown tower is exciting, but The Bow remains in a class of its own.
"(225 Sixth) will look good, but I think the Bow will still be what your eye's drawn to. It's stunning," he said.
Also on HuffPost
The Bow Tower Over Calgary