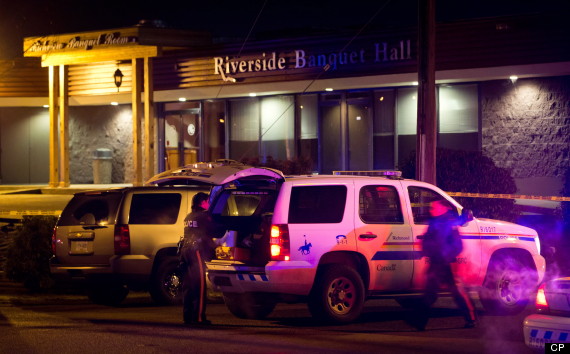 RCMP officers work outside a banquet hall where four men were shot in Richmond, B.C. (Darryl Dyck/CP)
One man is in custody after a shooting at a banquet hall in Richmond, B.C. on Wednesday night that sent four people to hospital.
An event at the Riverside Banquet Hall on River Road turned violent at about 9 p.m. Early police reports called it a birthday party but participants told media that it was a gathering of the longshoreman's union.
Four men who were shot are in stable condition on Thursday, RCMP Sgt. Peter Thiessen said in a news release. Two of the victims had been admitted with critical injuries.
Five minutes after the shooting, RCMP arrested a suspect without incident, said Thiessen.
One unidentified eyewitness told News1130 that one person was shot in the neck during an argument and three people who tried to step in were also shot.
A transit bus was called in to transport about 100 witnesses to an RCMP detachment for further questioning, said RCMP.
"The potential for innocent people to be hurt is high. I'd like to clarify that we have determined this is a targeted incident, which happened at a private function," he said. "At this point police are still trying to determine if the shooting was gang related."
RCMP Insp. Bryon Massie said on Wednesday that the Richmond shooting is not linked to other recent deadly attacks in Surrey. That city has seen three shootings claim four lives since Sunday.
At least two of the Surrey incidents involved gang members.
With files from The Canadian Press