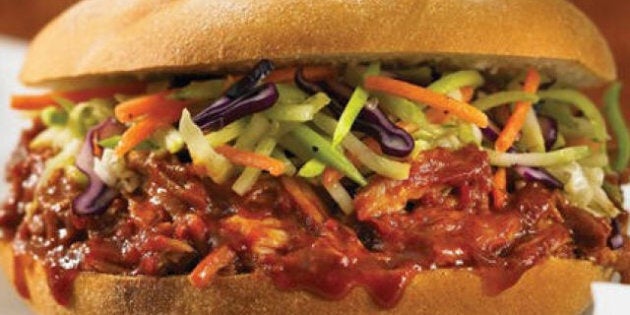 You're bound to win some cheers by serving pulled pork on a bun during half-time of the Super Bowl, set for Feb. 3 in New Orleans.
Simply marinate boneless pork for a couple of hours or overnight, then put it in the slow cooker. The result will be tender enough to be shredded, or "pulled," apart. The sauce can easily be prepared while the pork is cooling.
This recipe comes from the new "Best of Bridge Slow Cooker Cookbook."
60 ml (4 tbsp) packed brown sugar, divided
15 ml (1 tbsp) chili powder
15 ml (1 tbsp) dry mustard
1.5 kg (3 lb) boneless pork shoulder blade roast, cut into 4 chunks
1 envelope (38.5 g/1.4 oz) onion soup mix
375 ml (1 1/2 cups) chicken broth
1 ml (1/4 tsp) cayenne pepper
375 ml (1 1/2 cups) tomato-based chili sauce
45 ml (3 tbsp) cider vinegar
Use a 5- to 6-quart slow cooker.
In a bowl, combine 15 ml (1 tbsp) of the brown sugar, paprika, chili powder, mustard and salt. Rub over all sides of pork. Cover and refrigerate for at least 2 hours or overnight.
Place pork in slow cooker. Whisk together soup mix and broth; pour over pork. Cover and cook on low for 8 to 10 hours or on high for 4 to 5 hours, until pork shreds easily with a fork. Transfer pork to a plate and let cool slightly.
Using a spoon, remove excess fat from surface of sauce. Pour sauce into a large saucepan and bring to a boil. Reduce heat and simmer for about 20 minutes, until syrupy. Stir in remaining brown sugar, cayenne, chili sauce, vinegar and soy sauce; simmer for 10 minutes to blend flavours. Adjust seasoning with salt and cayenne, if desired.
Meanwhile, transfer pork to a cutting board and add accumulated juices to sauce. Using two forks, shred pork, placing it in a serving bowl. (This is a super-messy job but worth the effort.) Pour 250 ml (1 cup) sauce over shredded meat, turning pork to absorb sauce. Serve pork on warmed buns, topped with coleslaw, with extra sauce for dipping.
Source: "Best of Bridge Slow Cooker Cookbook" by Sally Vaughan-Johnston & The Best of Bridge Publishing Ltd. (Robert Rose, www.robertrose.ca, 2012).
ALSO: Best nacho recipes for the big game: