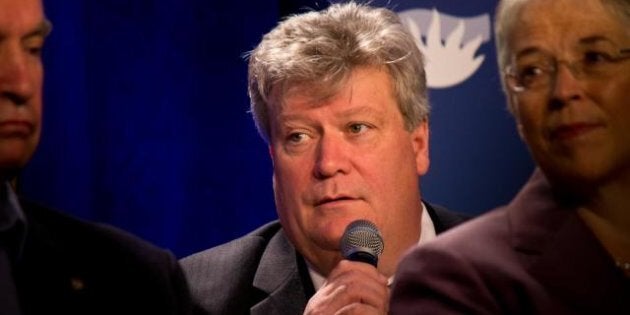 The B.C. NDP is raising questions about a provincial minister's actions during last week's Surrey council vote over a $100-million casino project proposed for South Surrey.
With a vote of 5-4 following a marathon public hearing last week, Surrey's city council turned down the proposal from Gateway to build a new casino in South Surrey. Mayor Diane Watts cast the deciding vote, and said the casino was not what the majority of Surrey's residents wanted.
Now, some city councillors have said that B.C. deputy premier Rich Coleman called them during the debate.
NDP MLA Spencer Chandra Herbert, the opposition critic for B.C. Lottery Corporation and Gaming Policy, said what the province wanted should not have come into play at the city's vote at all.
"This was a clear breach of policy. It's written there in black and white: The minister is not supposed to be trying to influence individual decisions as Rich Coleman did," Chandra Herbert said.
The Gaming Policy and Enforcement Branch states that "government is not involved in decisions respecting individuals or specific companies or organizations, or in the day-to-day management of gaming except where approval for such decisions is required under the Act."
The NDP says the premier should explain what happened at last week's vote.
"I think Christy Clark needs to answer for her minister's actions: Does she believe it's OK to break policy and try to influence decisions, as Rich Coleman did in this case?" Chandra Herbert asked.
Coleman was unavailable for comment in person but in a written statement, acknowledged making the calls and said he was simply providing information about the issue, not trying to influence the outcome of the public hearing.
"We have never put a casino in any community that has not wanted one. That will continue to be the provincial government's policy," Coleman wrote.
"I am always open to discuss projects and answer questions for issues falling under my ministry, which is what I did in this case. That will not change," he added.
Chandra Herbert said if that's the case, the calls should have been made by government staff.
Langley open to proposals
Surrey's rejection of the casino proposal might not be the end of the story. The Township of Langley says it has not been in contact with the B.C. Lottery Corporation, but Mayor Jack Froese says he is welcoming any proposals.
"A casino brings jobs, it brings revenue to the Township of Langley. It would bring revenue for lots of infrastructure projects," he said.
"If a casino was coupled with a theatre or a convention centre, it would certainly bring tourism, bring people to the township," he added.
"So there's lots of benefits economically but, on the other hand, you'd have to look at the social aspect of casinos and gambling."
Froese said if a proposal was brought forward to Langley Township, he would ensure that it goes through a rigorous public consultation, just as the proposal in Surrey did.