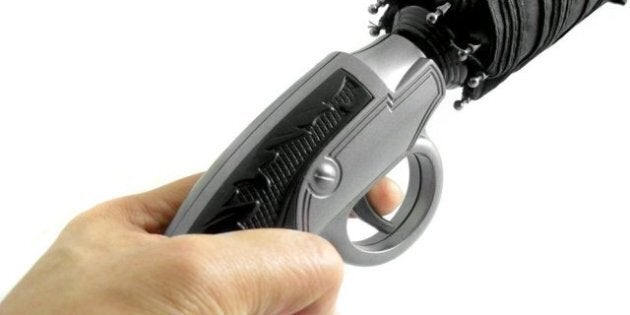 A novelty umbrella that looked like a rifle created a tense situation at a bus stop in Richmond, B.C., and now police are warning the public not to carry the scary props.
Richmond RCMP Sgt. Sherrdean Turley said someone called 911 last November after spotting a young man with what appeared to be a rifle over his shoulder, waiting at a bus stop.
"Our officers directed the male to place the rifle on the ground, at which time, he did, and he stepped away from the rifle."
When officers took a closer look, they realized it was an umbrella, but the situation could have ended very badly if the young man had made a wrong move, Turley said.
"If, for example, he had [the novelty umbrella] on his shoulder and was simply trying to tell our officers, 'No, no, no, it's just an umbrella, let me show you,'" Turley said, holding up a so-called gunbrella. "If it appeared that he was actually shouldering the rifle — if our officers believed he was about to fire — I mean, our officers would have no choice."
The young man told police he bought the umbrella at a games store in Richmond. The owner of the chain declined to comment on the incident, but a manager at the chain's Burnaby location said he apologized to the young man's mother and says the store isn't planning on selling the item again.
'Swordbrellas' also provoke police response
Time Frame, a framing and crafts store in Vancouver, doesn't sell 'gunbrellas' but does offer umbrellas that look like Samurai swords.
Carl Danforth, a spokesperson for the store, said the fake gun umbrellas look much too real.
"We won't carry the umbrella gun because we found it looks too much like a real gun. We don't want to be responsible with somebody walking down the street with a real-looking gun, and what will the police do with you," Danforth said.
But Danforth, who does sell 'swordbrellas' said even he has had a conversational run-in with police over them.
"I've had to deal with a police officer that pulled me over because he wanted to question me about it and I happily showed it to him and he was like, 'Oh, that's very clever,'" Danforth said.
According to police in Richmond, the smart thing to do is to just stay away from any prop that looks like a real weapon.
"This is such a bad idea and that is such an understatement," Turley said.