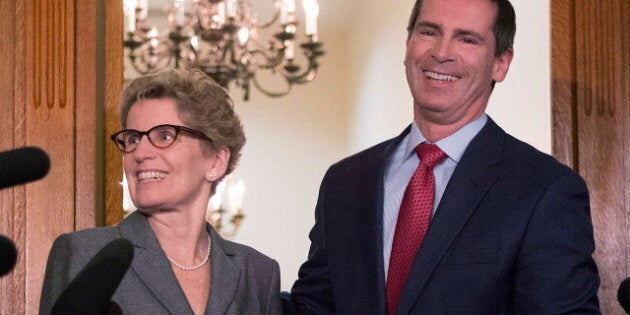 The Forum Research survey for the Toronto Star put the governing Liberals at 27 per cent support, well behind the Progressive Conservatives at 32 per cent and the New Democrats at 35 per cent. With Andrea Horwath seen as a much more likely partner than the Tories' Tim Hudak, Wynne will need to use all of her skills of persuasion to prevent the NDP leader from pulling the plug on the Liberal minority government.
In the short term at least, Wynne's victory is unlikely to have a big impact on Ontarians' voting intentions. When asked how they would cast their ballot with Wynne as leader of the Liberals, Ontarians hardly budged. Nor were they swayed by Sandra Pupatello as leader, though Gerard Kennedy could have given the party an immediate, though modest, boost.
Beating Dalton McGuinty's numbers should not prove to be a big problem, however, as his approval rating stood at only 21 per cent on the eve of his departing speech Friday. Hudak, too, has unimpressive numbers, with only 27 per cent approving of his performance as leader of the PCs. Howarth, however, scored 51 per cent approval in the Forum poll, with only 28 per cent disapproving of her performance.
Wynne will face off against her two rivals as soon as the legislature is recalled in a few weeks. Ontarians certainly want their legislators to get back to work: 66 per cent said they think the legislature should be recalled immediately.
They are move divided on whether they want them to continue working, however. While 48 per cent said they felt an election should be held now, 45 per cent disagreed. It is no surprise that a majority of PC and NDP supporters want to head back to the polls, but at 59 and 53 per cent respectively, even the opinion of those who oppose the Liberals is hardly unanimous.
Leading in this poll, there seems to be little reason for the New Democrats to keep the Liberal government on life support. This may be the best chance the party has had at forming the next government since 1990, and the opportunity may slip away. But Wynne does have the potential to eat into Horwath's support: 28 per cent of NDP supporters thought she was the best choice among the Liberal contenders, compared to only 15 per cent of PC voters. Pupatello, on the other hand, had far more favour among Tories (37 per cent) than New Democrats (18 per cent).
With the vote as divided as it currently is, the probability of a minority government is very high. The Progressive Conservatives have been unable to move into a position where they would stand a good chance of winning a majority of seats in the legislature, and have been stuck at or below the 35 per cent they achieved in the last election. If the Tories do win a minority, though, many Liberal and NDP voters would not look askance at a coalition of the two parties to the left of Hudak -- 62 per cent of New Democrats could get on board, along with 71 per cent of Liberals.
But before thinking about the province's next government, Wynne will need to keep the current one alive. The question is, do Hudak or Horwath have any incentive to help?
Éric Grenier taps The Pulse of federal and regional politics for Huffington Post Canada readers on most Tuesdays and Fridays. Grenier is the author of ThreeHundredEight.com, covering Canadian politics, polls and electoral projections.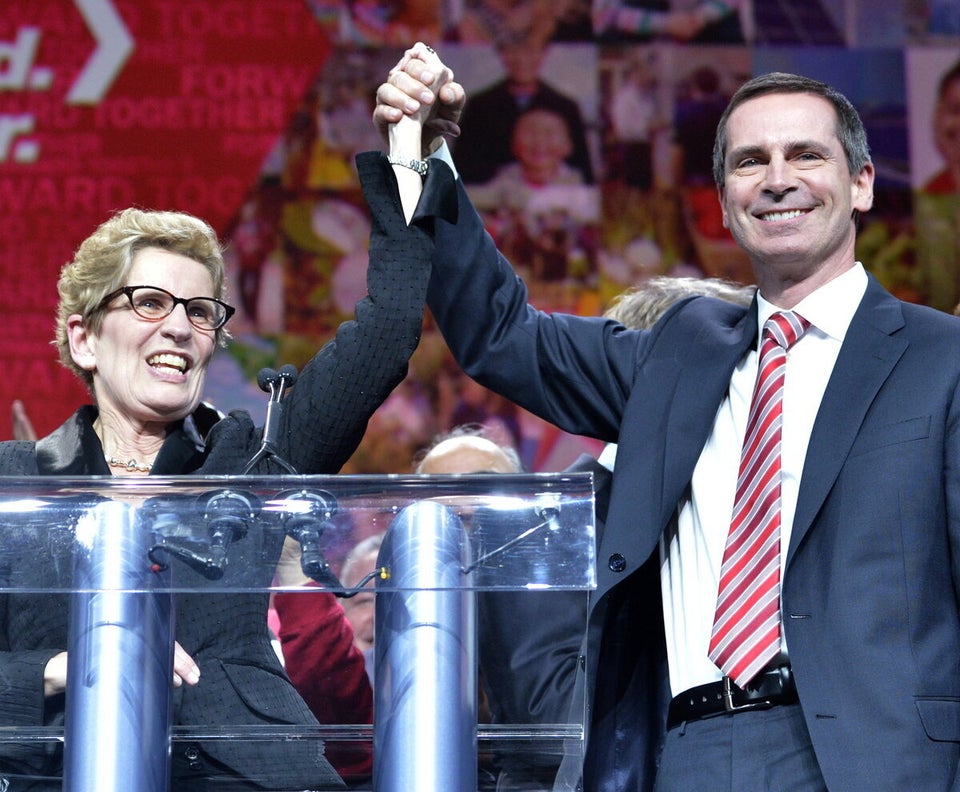 Ontario Liberal Leadership Convention