Maham Abedi
Each morning, between picking out an outfit for school and eating breakfast, Ruchie Shainhouse, 20, says a prayer. On Friday nights, she stays in, her house lit by candles. Saturday mornings begin with a half-hour walk to her local synagogue.
This is the life of a devout Orthodox Jew, a life guided by religion and one not shared by many of her peers, the statistics say.
Canada's Millennial Generation, roughly aged 18 to 30, is increasingly straying from religion. Unlike their grandparents and even parents, many millennials have not grown up attending church every Sunday or observing Sabbath on Friday evenings.
According to Statistics Canada, the number of Canadians aged 15 and over who identify themselves as having no religion doubled between 1985 and 2005, to 22 per cent. On average, Canadians who reported they had "no religion" in 2005 were younger – almost 40 per cent were 24 or younger.
Rev. Stuart MacDonald, who teaches the history of Christianity and ministry at University of Toronto's Knox College, says many millennials have no religious affiliation because their parents didn't teach them.
"It's the culture that doesn't reinforce or influence religious belief in any way. We certainly have lost the cultural cohort of religion," he said.
Historically, Canadians have largely affiliated with Roman Catholic and Protestant denominations of Christianity. Churches were social institutions with high attendance. Today, religious attendance and affiliation is growing in minority religions, such as Islam and Hinduism, largely because of immigration.
Story continues under gallery.
Many immigrants in Canada, in an effort to sustain their ethnic identities and form communities in Canada, attend church and visit mosques more frequently than they did in their native countries, said Brian Clarke, a theology professor at University of Toronto.
But overall, attendance at religious institutions is down, especially among young Canadians. An exclusive survey of 1,004 millennials conducted for The Huffington Post Canada found that 51 per cent of respondents said they never attend a religious institution. Only 12 per cent said they attend weekly, with attendance highest in central Canada (23 per cent) and lowest in Quebec (3 per cent).
In 2005, Statistics Canada found that 33 per cent of Canadians aged 15 to 24 had never attended a religious institution, compared with 25 per cent in 1985.
Peter Beyer, professor of religious studies at University of Ottawa, believes that the decline of religion is driven, in part, by what is happening on its fringes.
"It's the extremism that's often linked with Islam and also what's happening in the United States. People's image of what a Christian is is jaundiced by those radical right-wing Republican types, who are giving Christianity a bad name," he said. "People are only too willing to believe it."
Not everyone buys into the anti-religion wave.
Meet three Canadian millennials who consider religion essential to their lives. They discuss what life is like as a religious person in Canada, the hardships and benefits of faith, and why they chose this path.
BESMA SOLTAN, 25, MUSLIM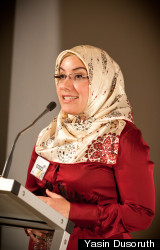 Every time Besma Soltan, 25, leaves her home, she wraps a scarf around her head and neck, a piece of fabric central to her identity.
"It's part of who I am. It's a part of me. Just like my arm and is attached to the rest of my body, I feel my hijab is part of what makes me me," Soltan said.
When Soltan arrived in Canada with her family in 2000, she was 13 and already an experienced world traveller. Soltan, born in Iraq just three years before the 1990 Gulf War began, and her family immigrated to Nigeria, where she spent five years of her childhood. It was in these countries where her parents taught her about their religion, Islam.
Still, it was a basic understanding of Islam: She thought of it more as a set of guidelines delineating right and wrong than a religion.
"I grew up with religion. I was told I have to pray, I have to fast, and I have to dress modestly, though not necessarily a hijab," she said.
The desire to wear a hijab came to her on her own after she had moved to Canada, she said, as she grew older and realized the importance of Islam in her life. She was 15. The decision, which she had contemplated for months, was not an easy one.
"It was on mind for a while, but I never shared it with anyone. I never spoke about it with my parents. I didn't know what was stopping me," she said.
"I went through all the reasons of what (was) stopping me, from the smallest to the most significant, from not finding proper clothing, to weather and heat, to what friends would say, to getting a job," she said.
The decision came to her in the middle of the night, she said. It was the Muslim holy month of Ramadan; Soltan had been sick and unable to sleep. She crept into her family's living room and turned on the television to find Amr Khaled, a Muslim television preacher, finishing up his sermon with a prayer. As she listened to him pray about living with the intention always to please God, she began to cry.
"I just sat there, all the lights were turned off in the living room, and I was listening to him and crying, like puddles crying. I stayed up until 6 or 7 a.m. reading the Quran and praying and crying," she said. "I decided, 'When I step foot out of the door, I'm putting it on.' "
Not only did she feel it was her religious obligation to wear the hijab, but she also felt it would protect her.
"I feel that women are thought of and treated as objects of sexual desires; by dressing a certain way that makes me feel more secure in that area. I'm not doing it for other people; it's really just out of respect to myself," she said.
Ten years later, Soltan said wearing the hijab is second nature. As for her faith, she said she has found comfort knowing that there is a higher power and something in control of the universe.
"Each religion, each tradition and culture has beautiful things that tell you to treat people a certain way," she said. "Religion kind of gives you a manual of how to be a good person."
MICHAEL REARDON, 24, CHRISTIAN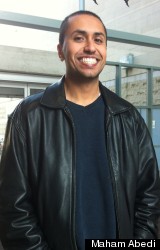 Religion has always been a part of Michael Reardon's life. There were times he did not practise religion or even believe in God, but even as his Bible collected dust in his university dorm room, it was there, he said.
"God is real. There is really no running away from that fact. I can try, but assuming He is omnipresent, you can't really run too far," the 24-year-old Bible-study teacher said.
Reardon grew up south of the border and attended the University of Oklahoma, where he joined a fraternity, becoming part of one of the largest Greek fraternity circles in America.
As the social chairman of his fraternity, Reardon said his Sundays shifted from attending church with his parents to waking up with hangovers. By the end of his second year, Reardon said he realized his life was empty.
"All of the enjoyment, all of the happiness was very superficial," he said. "I had all these friends around me. I was planning all the parties, planning all the events, but there was nothing there."
Reardon's life of frat parties and hangovers came to an end when he arrived home one night and found his Bible open on his coffee table. His roommate had taken it off the bookshelf where it had sat unopened for years.
The first passage that caught Reardon's eye was Romans 3:23 – "For all have sinned and fall short of the glory of God."
He kept reading that night until he reached Luke 15, the parable of the prodigal son, a passage that he said changed his life. It tells the story of a son who runs away into the world but is still welcomed back home with open arms by his waiting father.
Immediately after that night, Reardon said he backed out of all outwardly "sinful activities" and stopped attending fraternity parties.
After completing his undergraduate degree, Reardon attended the "Full-Time Training In Anaheim" program, a two-year postgraduate course based in California that attracts Christians from around the world.
He attended class from 6 a.m. to 10 p.m., six days a week, studying subjects that ranged from "God's Economy" to "Body of Christ."
It was a sacrifice, but Reardon said he got much more than he ever gave up. He learned the art of preaching there, and met his future wife, Joyce Reardon.
After moving to Toronto to be with Joyce, Reardon began preaching on the streets and handing out Bibles at universities. That led to organized weekly Bible studies at University of Toronto and York University.
"My desire is that all men will be saved, that all people can call and receive the Lord as their Saviour," he said.
Handing out the Bible and facilitating its study is essential to his mission, Reardon said, as people are often misguided about the book. He maintains that the Bible is the word of God and should not be open to interpretation.
"You can't try to compromise with what it says, just because it's easier that way. That's just too crazy to me. You might as well not be a Christian," he said.
The cost of preaching includes negative reactions from the public, he said. Reardon has been yelled at and even punched on more than one occasion.
Fully aware that the public appreciation of religion has been in decline for decades, he soldiers on, carrying out what he believes to be God's goal.
"I believe God has a goal for the Earth, and that he's fulfilling it through people."
RUCHIE SHAINHOUSE, 20, JEW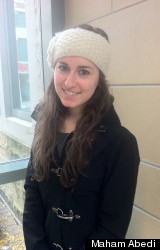 There is one God, and Ruchie Shainhouse, 20, believes she was created to serve Him.
Growing up as an Orthodox Jew, Shainhouse was taught to serve God in pursuit of a better afterlife. Living inside a tight-knit Jewish community, Shainhouse said her life was shaped by this belief and the principles of Judaism.
"The fact is, I can turn to God for anything. Talking to God, you're saying things out loud, and it feels good to know He's listening. You have someone to turn to always. God is always there for you," she said.
Honouring the Sabbath, the day of religious observance and abstinence from work and technology that lasts from Friday to Saturday evening, has been the highlight of her faith, Shainhouse said.
"Once a week I put everything else on pause. My week revolves around it; I plan for it," she said. "The way that I like to put it is, imagine Thanksgiving every weekend, inviting family and having a huge meal."
The Sabbath though, is more than a time for relaxation and dinner parties, she said. It also requires dedication and sacrifice. Each Saturday, Shainhouse and her family walk half-an-hour to their synagogue for a weekly service that starts early in the morning. Forbidden from using technology, Shainhouse, a student at Toronto's Ryerson University, cannot use her laptop or even a pencil, which means the school work piles up.
"It's stressful for me. All my friends get their work done on Saturday. I can only read the textbook, that's it," she said.
After completing high school, Shainhouse took a year off and travelled to Israel to learn more about her religion. It was while travelling around Israel and attending lectures and sermons, she said, that her beliefs jelled.
"I delved in. It kind of helped me figure out where I was in religion. There were really long bus rides where I'd reflect on what I'd learned," she said.
"When you're younger, you do what your parents do. When you're older, you have to start seeing things for yourself."
As an Orthodox Jew, Shainhouse said there are certain expectations of her, such as dressing modestly. Shainhouse is not allowed to wear pants, which would generally be considered men's clothing. She usually wears knee-length skirts and must also cover her collarbone and elbows.
"Modesty may mean covering, but it's also (about) not dressing suggestively. It's the way you present yourself," she said.
Shainhouse said she often faces difficulties when trying to explain her religion to others.
Although she has not directly been discriminated against, she said she has felt hostility, such as when she has had to explain the rules of the Sabbath to professors and group members on shared assignments.
"If you're religious and you're strong in your beliefs, people can't attack you," she noted. "I know my religion, and I can defend myself. I'm a Jew, and I'm proud."
This feature was produced by Maham Abedi, a student in Ryerson University's School of Journalism, in partnership with The Huffington Post Canada.
More from Asking Y, HuffPost Canada's special project on the Millennial Generation: