 Each year, hockey observers focus their attention on the World Junior Championships, a showcase of the best players under 20 years of age. The 2013 competition featured more talent than usual because of the NHL lockout, which allowed elite players who might have been in the professional ranks to participate at the World Juniors in Russia.
While Canada's Ryan Nugent-Hopkins, who established himself last year as a star with the Edmonton Oilers, was the tournament's leading scorer, several other players who had never seen NHL competition stood out.
Here is a list of the tournament's top six players who had not previously played an NHL game. There's a goaltender, two defencemen and three forwards listed on this young dream team.
We want to hear your tips for staying safe on and off the ice!

Share a safety tip or trick in our Healthy Competition contest for a chance to win! Contest closes February 28, 2013.
The Top Players From The 2013 World Juniors. Slideshow text follows for mobile readers.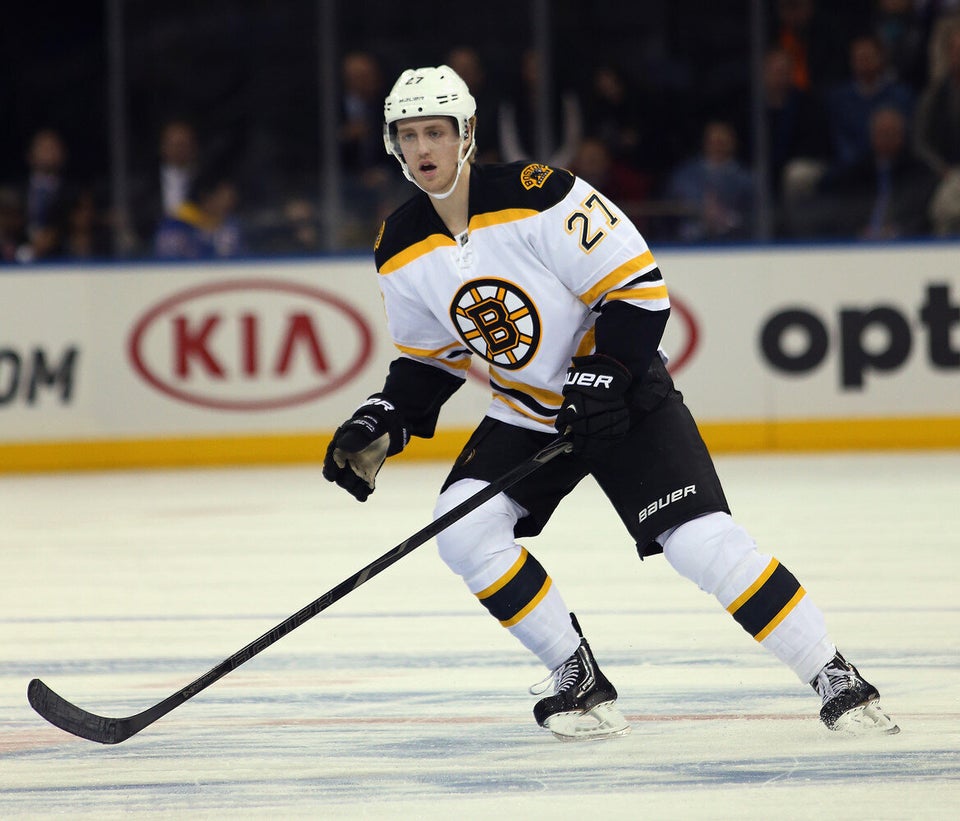 The Top Players From The 2013 World Juniors.
1. John Gibson, USA, Goaltender
The eye-opener of the 2013 World Junior tournament was the performance of Gibson. The goaltender won MVP honours as he backstopped the Americans to their third gold medal. Gibson made 26 saves in the title game against Sweden and stone-walled the favoured Canadians in a 5-1 victory in the semi-finals. A 2011 draft pick of the Anaheim Ducks, Gibson hails from Pittsburgh and plays for the Kitchener Rangers of the Ontario Hockey League. During his MVP run, Gibson posted an outstanding 1.36 goals-against average and .955 save percentage, both American records. He surrendered just nine goals in seven games.
2. Jonathan Huberdeau, Canada, Forward
Soon after the World Juniors tournament was complete, Huberdeau made his NHL debut and did so in spectacular style, scoring one goal and assisting on two others. He was named the first star in the Florida Panthers' 5-1 season-opening win over Carolina on January 19. At the World Juniors, Huberdeau had three goals and six assists for Canada, trailing only Nugent-Hopkins (15 points) in team scoring. The slick-skating centre's performance was a bright spot for the first Canadian squad since 1998 to come home without a medal.
3. Jacob Trouba, USA, Defenceman
A tough and agile defenceman, Trouba was dominant for the Americans. He cleared pucks out of danger, wiped out on-rushing opponents, and completed deft passes to teammate's eager to streak to the goal. A first-round draft choice of the Winnipeg Jets, Trouba led all defencemen in scoring with nine points at the World Juniors and was named to the tournament all-star team, along with blue-line partner Jake McCabe.
4. Filip Forsberg, Sweden, Forward
Although he didn't rack up enough points to even crack the top 10 in tournament scoring, Forsberg was still named among the first three all-star forwards at the World Juniors. His vision and instincts for the game helped Sweden capture silver one year after Forsberg was key to a gold-medal victory in the 2012 tournament in Calgary. Forsberg was chosen 11th overall by the Washington Capitals in the 2012 NHL Draft.
5. Johnny Gaudreau, USA, Forward
With seven goals in seven games, Gaudreau did his best impersonation of Wayne Gretzky in his prime. The left wing who plays for Boston College led the World Juniors in goals and finished with nine points, topping all American scorers and ranking fifth in the tournament. A fourth-round draft choice of the Calgary Flames in 2011, the 5-foot-7 Gaudreau is an underrated talent coming into his own. He helped Boston College win an NCAA title last year, scoring 21 goals and recording 44 points in 44 games.
6. Dougie Hamilton, Canada, Defenceman
Property of the Boston Bruins, Hamilton has been a World Junior star for Canada for successive tournaments. He's 6-foot-5 with strong puck skills and the tenacity a team wants in a blue-liner. Hamilton also held a leadership role for Team Canada and that experience helped him land a spot on the Bruins after the lockout. He earned an assist on January 23, his first NHL point.