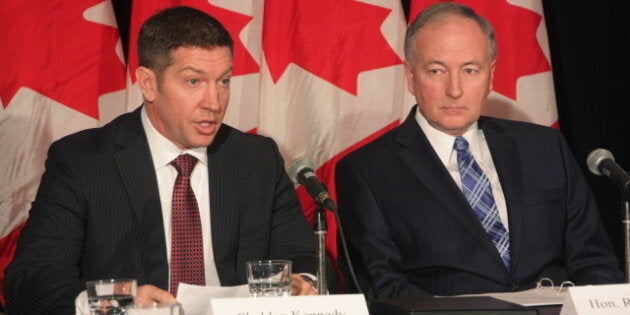 TORONTO - Promises to give victims a formal role in Canada's criminal justice system and to stiffen penalties for child sex predators are important if overdue federal initiatives, two abused former hockey players said Monday.
Speaking after a roundtable with the justice minister, Greg Gilhooly and Sheldon Kennedy said the Conservative government was on the right track, even if details were lacking.
"Right now a victim is simply a witness — we're at the beck and call of other people," Gilhooly said.
"To the extent that we can be given a formalized role in the judicial process, that to me would be a wonderfully empowering thing."
A victim's bill of rights was one of three get-tough-on-crime themes the government plans to emphasize this year, Justice Minister Rob Nicholson said. The aim is to entrench the rights of victims into a single law.
Nicholson also promised stiffer sentences for child-sex predators.
"Their punishment for these crimes must reflect the devastation they cause in the lives of children and their families," the minister said.
Concerns over sentencing arose after former hockey coach Graham James was jailed for two years last year for assaults on ex-NHL star Theo Fleury and his cousin Todd Holt in the 1980s and '90s.
The Crown has appealed the sentence as too lenient in a case that also saw the prosecution stay charges involving assaults on Gilhooly as part of James's guilty plea.
James had already been sentenced to 3 1/2 years in the mid-1990s for assaulting Kennedy and another young hockey player. He served 18 months.
"The key here is that we're having conversations about the importance of not only rehabilitating the criminals but rehabilitating the victims," Kennedy said.
"I couldn't have imagined 16 years ago, when I disclosed my abuse, that we'd be talking about these issues so openly and with such commitment to be making positive change for victims."
Nicholson said the government will announce specific measures in the weeks and months to come.
Currently, small-time marijuana growers face stiffer mandatory minimum sentences than those who rape children, an irony not lost on Gilhooly, who has a law degree.
"I personally don't believe that those who grow marijuana deserve to go to jail," Gilhooly said. Those who commit sexual assaults against children do."
Still, the government now appears to view sex crimes against children as a priority, even if any measures come too late to help him, Gilhooly said.
"I'm slowly coming to grips with the fact that I was never going to get justice from the justice system," he said, "It's more a legal-results system than a justice system."
Kennedy said the government's past focus on cracking down on criminals has sometimes left victims — especially child victims — in the legislative cold.
"Sometimes, yeah, absolutely, victims are lost," he said.
"There is real invisible trauma, invisible damage that happens to these types of victims."
Nicholson also promised legislation to make public safety the "paramount consideration" in cases where accused criminals are found not criminally responsible by reason of a mental disorder.
He also pledged better use of new technologies to enhance the efficiency and effectiveness of bail and extradition regimes.
New Democrat justice critic Francoise Boivin called Nicholson's roundtable a public relations exercise devoid of substance.
"It's a government that talks a lot but doesn't necessarily act seriously," Boivin said.
Liberal justice critic, Irwin Cotler, accused the Tory government of recycling its old crime and punishment agenda.
"There's nothing in there about access to justice and the need for legal aid," Cotler said. "Why is it there's nothing in there about aboriginal justice?"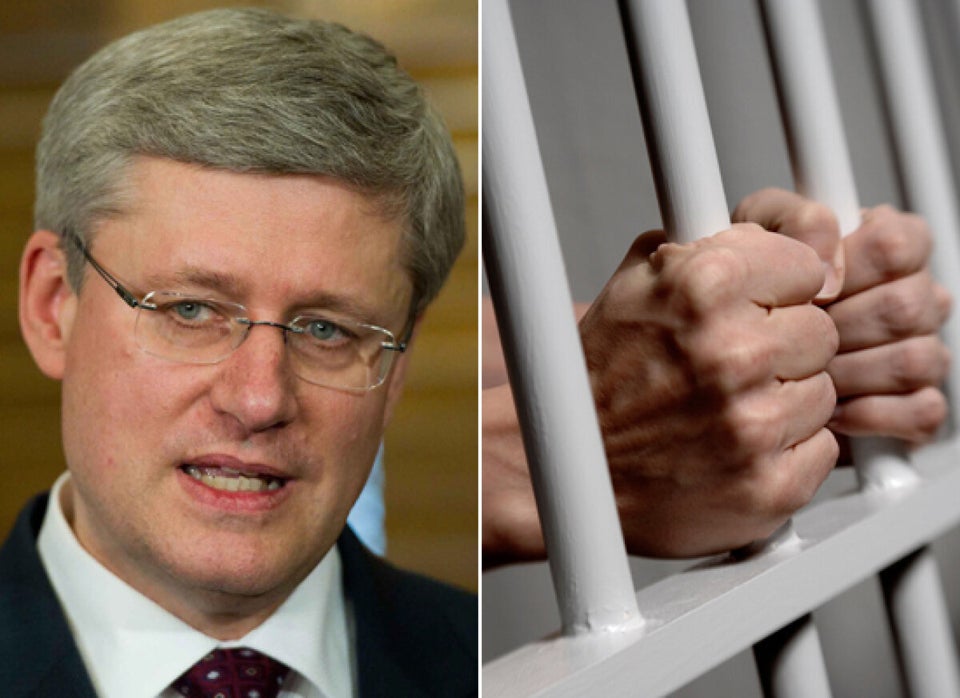 15 Things Critics Fear In The Tory Crime Bil