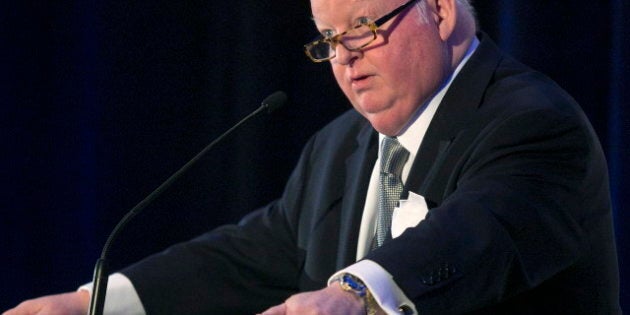 The uproar over where Senator Mike Duffy lives continued Wednesday in the House of Commons.
Opposition MPs are questioning whether Duffy lives in Cavendish, P.E.I., as he says he does. Earlier this week, P.E.I.'s health minister said Duffy had applied for a new health card — not a renewal — and CBC News obtained documents that show Duffy isn't getting a much lower resident tax rate on his property in the province.
The tax credit goes to properties where "50 per cent or more of the owners reside in P.E.I. for 183 consecutive days or more each taxation year defined as Jan. 1 to Dec. 31."
The Senate is auditing its members to ensure they live where they say they do after media reported three of them spend most of their time in the National Capital Region but claim they live elsewhere and collect a living allowance worth up to $21,000 a year. As part of the audit, senators have had to provide proof of residency like health cards, driver's licences, and some tax documents that show where they file taxes.
Duffy has also claimed $42,802.43 in living expenses in Ottawa since Sept. 1, 2010, the earliest date for which expenses are published.
During Duffy's keynote speech to the Maritimes Energy Association in Halifax Wednesday night, the senator made no reference to the recent committee investigation.
The senator successfully dodged reporters' attempts to question him about the controversy, telling one reporter that he "should be doing adult work" before leaving through a service exit.
Media reports said last fall that Liberal Senator Mac Harb and Conservative Senator Patrick Brazeau also live in the National Capital Region but claim the living expenses.
"I'm not sure the public understands that it is one very clear rule in the Constitution of Canada that senators must reside in the area they represent. That's been clear to me from the day I arrived here and I've had no confusion," Liberal Senator Joseph Day, from New Brunswick, told Evan Solomon, host of CBC's Power & Politics.
"It's quite simple," Conservative Senator Larry Smith, of Montreal, said on the show.
"The rules are straightforward and each individual senator has to look at his or her situation and make a determination. In my case I'm well outside the Ottawa area ... each of us had to supply the information to our particular groups to make sure we were in compliance."
'Senator Come-From-Away'
"Let's talk about Senator Come-From-Away," NDP ethics critic Charlie Angus said.
"He doesn't even qualify for the income tax reduction on residency, and when was the last time he actually mentioned the great people of Prince Edward Island in the Senate? It has to be at least seven months, which is why the people of Cavendish call him Mike Who?"
Angus said he wants the government to make sure Duffy repays the living allowance he's been collecting.
"The issue is that he's claiming that he's a resident of Prince Edward Island, and it seems to be a pretty dubious claim, the same way Mr. Brazeau's claim seems to be very dubious and the same way [as] Mr. Mac Harb," Angus said.
"This is taxpayers' money. These guys are set for life until they're 75. There's no accountability, you can't fire them. And if they're making these claims and they can't back it up, then there should be penalties and they should have to pay every cent back."
Government House Leader Peter Van Loan repeated the response he's used all week.
"All parliamentarians are expected to maintain a residence both in their home region and here in the National Capital Region. The Senate is, as we know, doing a review of their current rules and ensuring they are properly applied to all senators," Van Loan said.
Conservative Senator Noël Kinsella said it's positive that the Senate is auditing where senators actually live and suggested it's complex to untangle the meaning of the constitutional requirements.
"The instrument that has created the Parliament, which includes the Crown, the House of Commons and the Senate, was written in the latter part of the 1800s in the language of that time," Kinsella said. "So I'm not sure of the fullness of the meaning so this is why [the review is] a good thing."