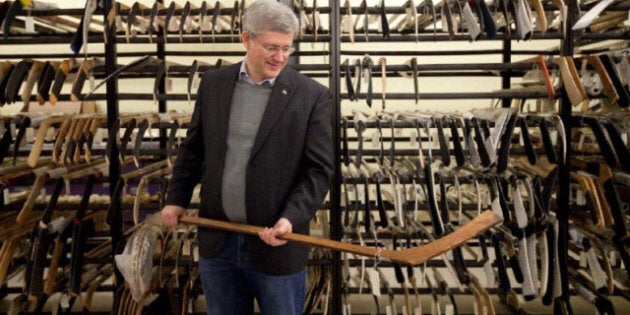 The story originally described The Globe's Roy MacGregor as "ghostwriter" on the book. A correction was soon issued.
Editor's note: Roy MacGregor acted as an editorial consultant on Prime Minister Stephen Harper's hockey history book. An earlier version of this story referred to Mr. MacGregor as a "ghostwriter."
MacGregor seems to agree.
Story continues below slideshow
The focus of the Globe story was actually on a law instituted under Brian Mulroney's Conservative government that is, according to the paper, responsible for the book going to U.S. publisher Simon & Schuster as opposed to a Canadian company.
Michael Levine, the agent who brokered the deal for the book, called the story a "red herring" and emphasized that getting the book published simultaneously in the United States and Canada was his chief concern.
"[Simon & Schuster was] the only company that was prepared to give me a North American deal and, because this is about the early days of the NHL, I was absolutely concerned that it be international," Levine said on Friday.
Levine said Harper was "insulated" from the negotiations regarding the publisher.
The book will be released in both markets in November, 2013. It will also be published in French by the Quebec publisher Sogides, according to Levine.
The book still does not have a title, but will deal with the "intriguing, little-known story of the origins of professional hockey, where strong personalities and philosophies battled to define not only how the game would be played on ice, but by whom," according to a press release from the publisher.
"Writing this book has taught me a lot about hockey and a great deal more about Canada. I hope all who read the book enjoy it as much as I enjoyed the experience of writing it," Harper said, according to the release.
All the royalties from the book will go to helping military families in need through the Canadian Forces Personnel and Family Support Services.