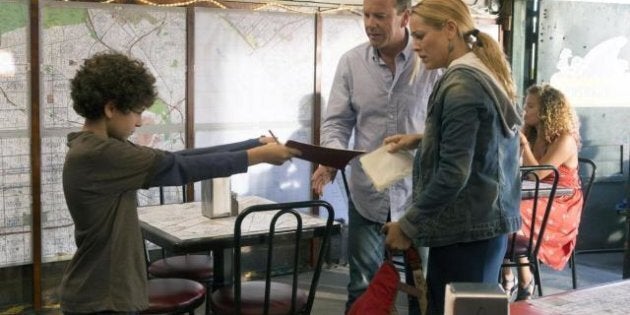 We've been waiting a long time for Season 2 of "Touch."
The last episode of Season 1 aired in September of 2012, and then the slated beginning of Season 2 was pushed from October 2012 to this Friday, February 8, 2013. A two-hour special premiere will air at 8 p.m. EST/PST on Global in Canada, and on Fox in the U.S.
"Touch" follows ex-reporter Martin Bohm (played by Canadian Kiefer Sutherland) and his 11-year-old son Jake (David Mazouz), who happens to be mute. Bohm's wife died in the 9/11 attacks, and he struggles to raise Jake as a single parent. As time goes on, Bohm begins to notice that Jake is eerily proficient with numbers, even though he's never spoken a word -- and eventually Bohm realizes that his son is attempting to communicate through numbers. If you're a fan of numerical sequences and mathematical patterns that require deciphering (like the number 23, or any numbers conspiracy theories, for that matter), then "Touch" will hit all the right buttons for you.
Showrunners Tim Kring ("Heroes") and Carol Barbee ("Hawaii Five-O") promise great things for Season 2.
"By the end of the [first] season we had introduced a more serialized engine to the show, and we ended the season with Kiefer Sutherland's character taking his son and running, basically on the run, and coming all the way to California in search of this mysterious girl named Amelia," says Kring. "We introduced the idea of this mystery girl early in the season and by the end of the season we're in L.A. on the journey to find her, and that connects us up with Maria Bello's character [Amelia's mother]. That's where we pick up the season."
"In many ways everything changes from the first season to the second season in that we took the entire storyline from New York City to L.A., and that entire world and all the characters that were in that world are starting pretty much fresh in the second season."
Barbee agrees, and talks about another new character: "We have another character, played by Lukas Haas, and he plays Calvin Norburg, a genius who's been doing the work and trying on an analog level to achieve the kinds of results with numbers and patterns that Jake is able to do naturally. We also have him on Jake's trail. These stories barrel towards one another, and there are connections that happen around the world. Some of them are much darker this year, but it's much more of a page-turner. Every episode feeds in to the next."
The two-hour Season 2 premiere of "Touch" airs at 8 p.m. EST/PST on Global in Canada and Fox in the U.S..